Monday 10.6.14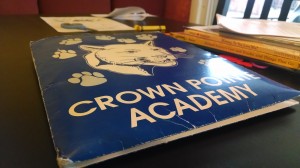 CROWN POINTE ACADEMY
SCHOOL NEWS
Monday, October 6, 2014
Mission Statement:
The mission of Crown Pointe Academy is to promote creativity, curiosity, character and community in a challenging Core Knowledge environment.
Thank you to the CPA-PTA for all of your hard work on the Cougar Classic and Carnival Royale!  It was a great time.  Thank you to all who volunteered to set up, run the carnival games, organize and put together the baskets, serve food, and clean up.  We appreciate your help!  A special thank you to the CPA-PTA Board including Denise Chavez, Angela Vinson, Beth Hoffman, Jessie Fleming, Jamie Brostuen, and Michelle Kline for all that they do to make CPA a great school.
Don't forget to keep recording your volunteer hours!  Every hour recorded helps CPA and has the possibility to qualify the school for funding opportunities such as grants. Keep recording your hours! 
Total hours recorded: 1353
Our goal for the year: 14,000
Destination Imagination will be starting at the end of October.  This year, the program is open to students in Kindergarten through 8th grade.  So if your child likes problem solving, creative thinking and working as part of a team, DI might be a good fit.  Please see the flyer in Monday folders for information on the program and the kickoff meeting on Wednesday, October 15th at 6:30 pm in the Library. 
Parent/Teacher Conferences & new VolunteerSpot App – The Kindergarten through 5th Grade Teachers are testing a new scheduling app for Parent/Teachers Conferences.  Parents will receive an email when their parent/teachers conferences are scheduled with your teacher.  A reminder email will be sent 2 days prior to your email address of your scheduled conference.  Please look at your email, as a paper reminder will not be sent home in your Monday Folders.  The only parents that will receive a paper copy will be the parents that do not have an email address.  
The Middle School Social Committee is hosting its first Open Gym night on Friday, October 17th!  This event is only open to current CPA Middle School students.  For just $3 per student, you can enjoy some food, playing games, hanging out with your friends, and the Rolling Video Game Trailer!  Permission slips will be sent home next Monday, October 13th and returned no later than 4:00 on Thursday, October 16th.  We hope to see you there!
Event on the Calendar:
Thursday, October 9th – Academy Board Meeting @ 8:00 pm
Thursday, October 9th – Parent Teacher Conferences from 4:00 – 9:00 pm
Friday, October 10th – Parent Teacher Conferences from 11:00 – 7:00 pm
Friday, October 10th – NO SCHOOL for students
Saturday, October 11th – Me & My Guy Event Dance from 6:30-8:30 pm
Have a great week!
Monday folder flyers for this week are (click on the link to the CPA website to view the flyers)
Middle School Newsletter 10.6.14
Attendance Tardy Reminder
Choir Flyer Destination
Imagination Flyer