Monday 3.9.15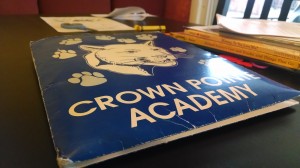 CROWN POINTE ACADEMY
SCHOOL NEWS
Monday, March 9, 2015
Mission Statement:
The mission of Crown Pointe Academy is to promote creativity, curiosity, character and community in a challenging Core Knowledge environment.
PARCC testing started today and will continue daily through the week for middle school students.  Elementary student's grades 3-5 will start testing next Monday, March 16th.  All testing takes place in the mornings prior to lunch, so please plan any appointments for the afternoon.  Please have your student on time to school. 
We will be placing an order Summer Bridge Workbooks earlier than usual this year.  Deadline to order is April 10, 2015. See attached flyer and order form for more information. 
If you have not completed a Letter of Intent to Return for your student please do so as soon as possible.  See attached form below.
Event on the Calendar:
Monday, March 9th – Academy Board Call for Candidates
Friday, March 13th – End of 3rd Quarter
Monday folder flyers for this week are:
Middle School Newsletter 3.9.15
Summber Bridge Book Flyer
Summer Bridge Book Order Form
Call for Candidates 2015
Declaration of Candidacy 2015
Letter of Intent to Return 2015