Monday Folder 1.11.16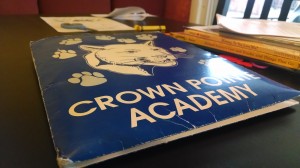 January 11, 2016
Our Mission: The mission of Crown Pointe Academy is to promote creativity, curiosity, character, and community in a challenging Core Knowledge environment.
To celebrate the Denver Broncos playoff game against the Pittsburgh Steelers next Sunday, this Friday, January 15th, is ORANGE FRIDAY!  Students are allowed to wear solid orange or blue shirts, or Denver Broncos shirts.  Jeans are still $1.00 to the Spanish Trip program.
PTA is looking for new officers!  The positions we are looking to fill include President and Vice President 3 (open now), and Vice President 1, Vice President 2, and Treasurer (open for the 2016-2018 term).  Please contact one of the current PTA officers if you are interested in filling one of these important roles.  All contact info is available on the CPA website.
As a school, we have logged 4,878 volunteer hours this year.  Help us reach our goal of 14,000 volunteer commitment hours by logging your volunteer time. Demonstrating strong parental involvement can help CPA qualify for grants and other funding opportunities, so it's important that every hour is recorded.  You can fill out the paper log and return it to the office, or you can record your hours online by sending an email to volunteer@crownpointeacademy.org.  Make sure to include your name, your student's name, and the total hours volunteered for the month in the email.  Thank you!
This week's documents include:
Middle School Newsletter 1.11.16
Intramurals Spike League
California Pizza Kitchen Fundraiser Flyer
Glee Club (Grades 3-8)