Monday Folder 1.12.15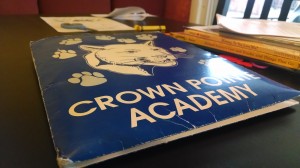 CROWN POINTE ACADEMY
SCHOOL NEWS
Monday, January 12, 2015
 Mission Statement:
The mission of Crown Pointe Academy is to promote creativity, curiosity, character and community in a challenging Core Knowledge environment.
As a school, we have recorded 5,368 hours this year.  There are still many opportunities to volunteer coming up in 2015.  If you need ideas or would like more information about volunteering, please contact Diana Castellano at ext. 104.  Make sure you keep recording your hours to help us reach our goal of 14,000 hours for the year.

Spanish fundraiser is coming up on Tuesday, January 20, 2015 (All Day).  Bring in the attached flyer and 20% will come back to our school.  We hope to see you there!

Event on the Calendar:
Wednesday, January 14, 2015 – Wellness Team Meeting at 3:45 pm
Wednesday, January 14, 2015 – Academy Board Meeting at 7:00 pm

NO SCHOOL, Monday, January 19, 2015 – Martin Luther King Jr. Day
Have a great week!
Monday folder flyers for this week are:
Middle School Newsletter 1.12.15
California Pizza Kitchen Flyer