Monday Folder 1.25.16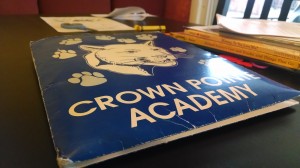 January 25, 2016
Our Mission: The mission of Crown Pointe Academy is to promote creativity, curiosity, character, and community in a challenging Core Knowledge environment.
If you have not already done so, please complete the First Round Choice Enrollment form that was sent home last week (or see the attached document).  This form will confirm your intent to return, and it needs to be turned in no later than February 4th in order to guarantee your student's space for next year.  Please contact Sandi MacGregor if you have any questions.
Don't forget to order salsa kits and dip mixes for your upcoming Super Bowl parties!  Support the Spanish Trip by ordering Outlaw Salsa.  The flyer and order form are attached.  All money and orders are due no later than Wednesday, January 27th.  Please contact William Gonzalez with questions.
Jump Rope for Heart and Hoops for Heart are Coming Soon!  Parents, we are excited to kick off these great events in cooperation with the American Heart Association!  Your student is becoming a heart hero by taking care of their own heart, spreading the message of the American Heart Association, and raising funds for life saving research.  Have your student jump online at www.heart.org/jump or www.heart.org/hoops to send emails and ask for donations.  ANY STUDENT THAT GOES ONLINE AND GETS A DONATION WILL BE RECOGNIZED AND RECEIVE SUPER PUP AND NINJA STAR.  Contact Mr. Varner if you have any quesitons.  Thank you for supporting the American Heart Association!
As a school, we have logged 5,179 volunteer hours this year.  Help us reach our goal of 14,000 volunteer commitment hours by logging your volunteer time. Demonstrating strong parental involvement can help CPA qualify for grants and other funding opportunities, so it's important that every hour is recorded.  You can fill out the paper log and return it to the office, or you can record your hours online by sending an email to volunteer@crownpointeacademy.org.  Make sure to include your name, your student's name, and the total hours volunteered for the month in the email.  Thank you!
This week's documents include:
IMPORTANT – Re-Enrollment for Returning Students
Middle School Newsletter 1.25.16
PTA Information Night Flyer
Outlaw Salsa Fundraiser Flyer
Outlaw Salsa Fundraiser Order Form
February Breakfast and Lunch Menu
February Reading Calendar
Commitment Hours- parent form

Have a great week!