Monday Folder 1.26.15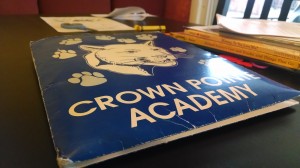 CROWN POINTE ACADEMY
SCHOOL NEWS
Monday, January 26, 2015
Mission Statement:
The mission of Crown Pointe Academy is to promote creativity, curiosity, character and community in a challenging Core Knowledge environment.
Thank you to all who attended last week's Chick-fil-a Spirit Night!  We had a great turnout!  Mrs. Stass' 1st grade had the highest attendance and won the class party.  All funds raised will go towards supporting our volunteer efforts.
This Friday, January 30th is Volunteer Work Night.  Join us from 5:30-8:30 p.m. to help with classroom projects and support your student's teachers.  Light snacks, drinks, and child care will be provided.  We hope to see you there!

As a school we have recorded 5,718 commitment hours for the year.  There are still many opportunities to get involved and support CPA.  Please contact Diana Castellano at ext. 104 if you have questions about volunteering.
Get ready for the Super bowl on Friday, January 30th with a stadium-style school lunch, featuring hot dogs and three-bean veggie chili (all made from only REAL, delicious ingredients)! Hurry to the lunch line and power up for the big game!
Event on the Calendar:
Wednesday, January 28th – Movie Night Committee Meeting 6:30-7:30 p.m.
Thursday, January 29th – Kindergarten Nursery Rhyme at 6:00 p.m.
Friday, January 30th – Middle School Honor Roll Breakfast at 7:30 a.m.
Friday, January 30th – Volunteer Work Night from 5:30-8:30 p.m.
Monday folder flyers for this week are:
Middle School Newsletter 1.26.15
Volunteer Work Night Flyer
February Menu
February Reading Calendar
February Commitment Hours
Superbowl Celebration Flyer