Monday Folder 1.6.15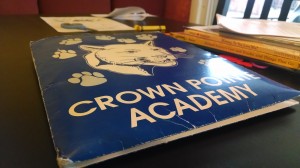 CROWN POINTE ACADEMY
SCHOOL NEWS
Tuesday, January 6, 2015
 Mission Statement:
The mission of Crown Pointe Academy is to promote creativity, curiosity, character and community in a challenging Core Knowledge environment.
Hello and Welcome Back!
We hope that everyone enjoyed their time with family and friends. 
Report Cards will be sent home today.  If your child owes more than $10.00, you will not receive their report card.  Please contact Sandi MacGregor at x105 if you have any questions.

As a school, we have recorded 4,992 hours this year.  Thank you to all who have given time to CPA!  We appreciate all of your hard work!  There are still many opportunities to volunteer coming up in 2015.  If you need ideas or would like more information about volunteering, please contact Diana Castellano at ext. 104.  Make sure you keep recording your hours to help us reach our goal of 14,000 hours for the year.

Save the date! Our annual Chick-fil-a Spirit Night fundraiser is coming up on Thursday, January 22nd from 5:00-8:00 p.m.  Join us for dinner and help CPA earn funds to support our Volunteer Work Nights and Volunteer Appreciation Breakfast coming up this spring.  20% of all receipts will come back to our school.  Just make sure to tell the cashier that you're with CPA.  We hope to see you there!
Have a great week!

Monday folder flyers for this week are:
Middle School Newsletter 1.6.15
Welcome Back Letter from the Baord