Monday Folder 10.10.16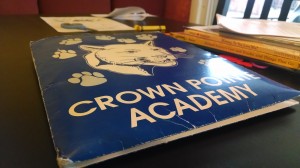 October 10, 2016
Our Mission: The mission of Crown Pointe Academy is to promote creativity,
curiosity, character, and community in a challenging Core Knowledge
environment.
Lost and found items are still out by the front office.  If your child is missing a coat, sweatshirt, lunch box, water bottle, etc., please come and claim it!  We will keep the lost and found out until Wednesday.  Anything not claimed at that time will be donated.
Next Tuesday, October 18th, we will take our all school picture for the year.  This year we are attempting to create a cougar face, so students need to wear shirts in particular colors.  Kindergarten and 2nd grade students should wear navy blue, 1st grade students should wear red, and all other grades should wear white shirts.  Please see the flyer on the CPA website for more information.
Is your child creative and a great problem solver?  If yes, then Destination Imagination might be a great opportunity for your child!  The Destination Imagination kick off meeting is today, Monday, October 10th at 6:30 in the CPA library.  Please see the attached flyer (also available on the CPA website) for more information.
This Thursday evening, the Denver Broncos take on the San Diego Chargers.  That means that Thursdayis Orange Thursday!  Students may wear Denver Broncos shirts or solid orange or blue shirts to school.  If your student purchased jeans for the year, he/she may also wear jeans that day.  Otherwise, regular uniform pants are required.
Make sure you check out this week's Update for information about an important safety drill taking place at CPAtomorrow.
As a school, we have recorded 1,016 volunteer hours.  Please remember to record all of your volunteer hours and help us reach our volunteering goal of 14,000 hours for the year.  Demonstrating strong parental involvement can help CPA qualify for grants and other funding opportunities, so it's important that every hour is recorded.  You can fill out the paper log and return it to the office, or you can record your hours online by sending an email to volunteer@crownpointeacademy.org.  Make sure to include your name, your student's name, and the total hours volunteered for the month in the email.  Thank you!
This week's documents include:
Middle School Newsletter 10-10-16
Update 10-10-16
All School Picture Information
Have a great week!
The EXPO Learning Lab is looking for parents and community members to share their talents with students.  The EXPO is an all hands on learning environment that CPA launched this year.
If you would like to sponsor the EXPO, check us out online here, or like us on Facebook to receive updates and information about what is happening in the EXPO classes.