Monday Folder 10.12.15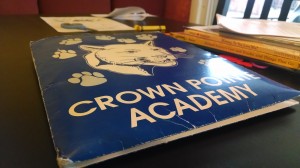 October 12, 2015
Our Mission: The mission of Crown Pointe Academy is to promote creativity, curiosity, character, and community in a challenging Core Knowledge environment.
Thank you to all of the families that contributed items to our Parent-Teacher Conference dinners!  Your thoughtfulness is greatly appreciated.  Please pick up your crock pots, bowls, and utensils in the teachers' lounge by the office.
Keep selling your Brax Spirit Cups to raise funds for playground and technology equipment at CPA!  The more you sell, the more you're eligible for some great prizes!
Is your student creative and a great problem solver?  Destination Imagination may be the perfect activity for your child.  Come to the parent information night tonight at 6:30 in the CPA library.  See the attached flyer for more information.
The end of 1st quarter is this Friday, October 16th.  All middle school students received missing work reports from their core class teachers today.  They have until Friday to complete this work for this grading period, and then they will receive a zero for any work not completed.  Once again, Infinite Campus is a great resource that students have access to at any time to view their grades and missing work.  If you need a parental/guardian username and password for Infinite Campus (IC), please contact the front office.
The Volunteer Work Night originally scheduled for this Friday is canceled.  Save the date for our next Volunteer Work Night on Friday, November 6th from 5:30-8:30 p.m.
Help us reach our goal of 14,000 volunteer commitment hours by logging your volunteer hours. Demonstrating strong parental involvement can help CPA qualify for grants and other funding opportunities, so it's important that every hour is recorded.  You can fill out the paper log and return it to the office, or you can record your hours online by sending an email to volunteer@crownpointeacademy.org.  Make sure to include your name, your student's name, and the total hours volunteered for the month in the email.  Thank you!
Be sure to check out this week's edition of the Update for important information about High School Information Night, PTA, and volunteering.
This week's documents include:
Update 10.12.15
Middle School Newsletter 10.12.15
DI Flyer 2015
Morning Open Gym Flyer
Basketball Intramural (Grades 6-8)
Haunted House & Open Gym Flyer – Permission Slip
Yearbook Flyer – Elementary
Yearbook Flyer – Middle School
Have a great week!