Monday Folder 10.13.14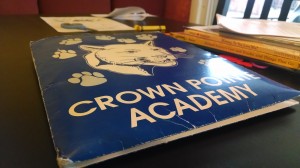 CROWN POINTE ACADEMY
SCHOOL NEWS
Monday, October 13, 2014
 Mission Statement:
The mission of Crown Pointe Academy is to promote creativity, curiosity, character and community in a challenging Core Knowledge environment.
Thank you so much to all of the families who contributed items to the Parent-Teacher Conference dinners!  Please pick up any dishes or utensils in the teachers' lounge by the cafeteria.  Don't forget to count and log the volunteer hours spent preparing and delivering your dish!
As a school, we have logged 1569.5 hours for the year.  Make sure you check out the volunteer bulletin board by the main office.  Watch the mountaineer climb the mountain as we log more hours and hopefully reach our goal of 14,000 hours for the year.  Keep volunteering and recording your hours!
During drop off in the mornings, please make sure you use the drive up lane or park your vehicle and walk your student to the building.  Please do not drop off in the middle of the parking lot, and please do not let your students out of your car until they are in the drop off zone that is supervised by staff.  Following these rules and the directions of the staff on duty is extremely important and will become even more so during the icy winter months.  We appreciate your continued efforts in keeping our parking lot safe!
Middle school open gym night is this Friday, October 17th from 6:00-9:00 p.m.
Permission slips were sent home in today's Monday Folder and are due back no later than Thursday, October 16th at 4:00 p.m.  Late permission slips will not be accepted, so make sure you get your slip turned in as soon as possible.
MIDDLE SCHOOL PARENTS:
If your student is missing work in his/her core classes, a report is being sent home in their Monday folder.  Missing work can be turned in until Friday, October 17th in order to receive up to 40% credit.
If you were unable to attend parent-teacher conferences, your student's Galileo test results/PEP has also been included in your child's Monday folder.  There is a PEP for Reading, Math, and Writing.  Each report has 2 to 3 standards that the teacher will be focusing on with your child this year.  It would be very beneficial to your child to look over the results and identify areas that need additional support.  There are a number of free tools to assist your child online.
Event on the Calendar:
Wednesday, October 15th – Destination Imagination Kickoff Meeting @6:30 pm
Thursday, October 16th – BAAC Meeting @ 6:30 pm
Friday, October 17th – Middle School Open Gym 6-9 pm
Have a great week!
Monday folder flyers for this week:
Update 10.13.14
Middle School Newsletter 10.13.14