Monday Folder 10.20.14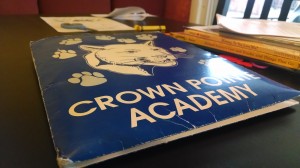 CROWN POINTE ACADEMY
SCHOOL NEWS
Monday, October 20, 2014
Mission Statement:
The mission of Crown Pointe Academy is to promote creativity, curiosity, character and community in a challenging Core Knowledge environment.
As a school, we have recorded 1,710 volunteer hours for the year.  Keep turning in your hours to help us reach our goal of 14,000 hours for the year!
Report cards will be sent home on Monday, October 27th.  If your child owes more than $10.00, you will not receive their report card.  Please contact Sandi MacGregor at x105 if you have any questions.
Class pictures and re-take picture day is Tuesday, October 28th.  If you would like your student to re-take their pictures please bring the pictures you currently have to exchange.  If your student was absent on picture day an order envelope will be sent home.  Class picture order forms will also be sent home in the coming week.   If you have any questions please call Leslie in the front office at 303-428-1882.
District 50 Showcase, October 27th.  See flyer for additional information.
Event on the Calendar:
Monday, October 20th – 1st Grade Music Performance at 6:00 pm
Tuesday, October 21st – High School Information Night at 6:00 pm
Thursday, October 23rd – 8th Grade Play Performance at 7:00 pm
Friday, October 24th – NO SCHOOL for students.  Teacher work day
Have a wonderful week!
Monday folder flyers for this week are:
Middle School Newsletter 10.20.14
Showcase Flyer English
Showcase Flyer Spanish