Monday Folder 10.23.17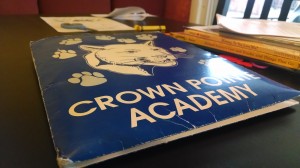 October 23, 2017
Our mission: The mission of Crown Pointe Academy is to promote creativity, curiosity, character, and community in a challenging Core Knowledge environment.
Tomorrow is class picture and picture re-take day.  If your student needs a retake, please send their original picture packet to school with them tomorrow.  It will be turned back in to Van Gogh Photography and replaced with the new picture in 6-8 weeks.  Also, Wednesday is our all school picture.  All students must be in uniform both tomorrow and Wednesday!
The CPA-PTA is hosting a Fall Harvest Festival this Friday, October 27th from 6:00-8:00 p.m.  Join us for a spooky harvest obstacle course, carnival games, food, and fun!  This is a family event– all students must be accompanied by an adult.  See the flyer on the CPA website for more information.
This Wednesday, October 25th is our annual Chick-fil-a Spirit Night fundraiser from 5:00-8:00 p.m. at the 104th and Federal location.  Check out the newly remodeled Chick-fil-a store, meet other CPA families, and help us raise funds that will be used for character education programming at CPA this year.
Report cards were sent home with students today.  If your child has fines or fees of $10.00 or higher, his/her report card was held at the office.  Please stop by as soon as possible to take care of outstanding fines or fees in order to receive your student's report card.
Make sure you check out this week's Update (attached) for information about 2 non-uniform days coming up NEXT WEEK!
As a school, we have recorded 5,244 volunteer hours to date.  Please remember to record all of your volunteer hours and help us reach our volunteering goal of 14,000 hours for the year.  Demonstrating strong parental involvement can help CPA qualify for grants and other funding opportunities, so it's important that every hour is recorded.  You can fill out the paper log and return it to the office, or you can record your hours online by sending an email to volunteer@crownpointeacademy.org.  Make sure to include your name, your student's name, and the total hours volunteered for the month in the email.  Thank you!
This week's documents include:
Middle School Newsletter 10.23.17
Update 10.23.17
Fall Harvest Festival Flyer
Chick-fil-a Spirit Night Flyer
Hyland Hills Youth Basketball Flyer (English)
Hyland Hills Youth Basketball Flyer (Spanish)

Don't forget to like us on Facebook to stay informed about school activities.
Have a great week!