Monday Folder 10.26.15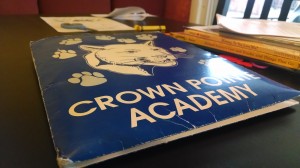 October 26, 2015
Our Mission: The mission of Crown Pointe Academy is to promote creativity, curiosity, character, and community in a challenging Core Knowledge environment.
Report cards were sent home today.  If your student owes fines or fees in the amount of $10.00 or higher, your student's report card was held at the office.  Please contact Sandi MacGregor at ext. 105 with questions.
Class pictures and re-take picture day is tomorrow!  School uniforms are required for all students.  Order forms were sent home in last week's Monday Folder, and extra order forms are available at the front office.  If you have any questions, please call Leslie at 303-428-1882.
This Friday, October 30th, is Orange Friday at CPA!  Students are allowed to wear an orange shirt, a school appropriate, Halloween-themed shirt, or a Denver Broncos shirt to school.  Jeans are allowed for $1.00 to the Spanish Trip program.
Our annual Chick-fil-a Spirit Night fundraiser is this Thursday, October 29th from 5:00-8:00 p.m. at the 104th and Federal location.  Chick-fil-a will donate 20% of all CPA's purchases back to the school.  The money raised will go towards supporting our volunteer efforts.  Make sure you tell the cashier in the store or at the drive thru that you're with CPA so that we receive credit.  Students should sign in at the Welcome Table, and the class with the highest attendance will receive a Chick-fil-a party!  We hope to see you there!
As a school, we have logged 1,347 volunteer hours this year.  Help us reach our goal of 14,000 volunteer commitment hours by logging your volunteer time. Demonstrating strong parental involvement can help CPA qualify for grants and other funding opportunities, so it's important that every hour is recorded.  You can fill out the paper log and return it to the office, or you can record your hours online by sending an email to volunteer@crownpointeacademy.org.  Make sure to include your name, your student's name, and the total hours volunteered for the month in the email.  Thank you!
This week's documents include:
Update 10.26.15
Middle School Newsletter 10.26.15
November Breakfast and Lunch Menu
Rev Foods Holiday Meal Flyer
Rev Foods Chicken Potstickers Flyer
3rd, 4th, and 5th Grades Music Program Information
Skate City Inline Hockey Flyer
Have a great week!