Monday Folder 10.27.14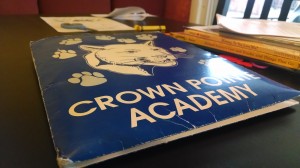 CROWN POINTE ACADEMY
SCHOOL NEWS
Monday, October 27, 2014
Mission Statement:
The mission of Crown Pointe Academy is to promote creativity, curiosity, character and community in a challenging Core Knowledge environment.
Report cards will be sent home today.  If your child owes more than $10.00, you will not receive their report card.  Please contact Sandi MacGregor at x105 if you have any questions.
Class pictures and re-take picture day is Tuesday, October 28th.  If you would like your student to re-take their pictures please bring the pictures you currently have to exchange.  If your student was absent on picture day an order envelope will be sent home.  Class picture order forms will also be sent home in the coming week.   If you have any questions please call Leslie in the front office at 303-428-1882.

Save the Date!  The next Volunteer Work Night will be on Friday, November 7th from 5:30-8:30 p.m.  Join us to complete classroom projects for the teaching staff and earn some commitment hours.  Child care, drinks, and snacks will be provided.  Watch for the sign up in next week's Monday Folder.  We hope to see you there!
As a school, we have logged 2,293 hours this year.  Letters were sent home in today's Monday Folder detailing how many hours your family has recorded.  If you feel there is a discrepancy, please fill out the Volunteer Log for October with the correct number of hours, or contact Diana Castellano at extension 104 to correct.  Thank you!
The Annual Thanksgiving Meal for parents and siblings of student's grades 1-8 will be held on November 21st. This meal is an opportunity for parents to order lunch and eat with their child(ren). There are a limited number of tickets (75).  Reservations will be made on a first come, first served with the reservation form and payment returned to the front office. Due to limited space, you MUST make reservations to attend.  Kindergarten parents have their Thanksgiving feast lunch with their children on a earlier day and do not participate in this lunch opportunity.   The 4th grade classes will be on a field trip and will not be participating as well.  See flyer for additional information.
Daylight Saving Time – Remember to set your clock back 1 hour on Sunday, November 2nd.
Event on the Calendar:
Monday, October 27th – District 50 Showcase at WHS from 5:00-7:00 pm
Friday, October 31st – Middle School Honor Roll Breakfast from 7:30-8:00 am
Have a wonderful week!
Monday folder flyers for this week:
Update 10.27.14
Middle School Newsletter 10.27.14
Thanksgiving Meal Flyer
Thanksgiving Meal Reservation Form
November Breakfast/LunchMenu
November Reading Calendar
November Commitment Hours Form