Monday Folder 10.5.15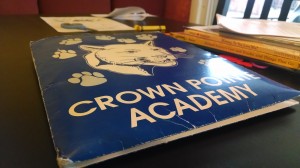 October 5, 2015
Our Mission: The mission of Crown Pointe Academy is to promote creativity, curiosity, character, and community in a challenging Core Knowledge environment.
Parent-Teacher Conferences are Thursday and Friday this week.  Elementary parents—if you have not signed up for your conference time, please do so as soon as possible.  Information on how to sign up is available on the CPA website.  Middle school parents—the teachers will be available on a drop in, first come, first served basis.  Information on middle school conferences is also available on the website.
Thank you to all who have signed up to contribute items for the teachers for conference dinners.  We could still use donations of drinks and side dishes for Thursday and Friday.  If you have questions or can help, contact Jessie Beeson at jessiebeeson@hotmail.com.  Thank you!
Does your student need some extra help with homework?  CPA is hosting a drop in, after school Homework Club on Tuesdays, Wednesdays, and Thursdays from 3:30-4:30 p.m.  If you would like your student to participate, please fill out the flyer found on the CPA website and return it to the school.  Homework Club will not be held this Thursday, October 8th due to Parent-Teacher Conferences.  Please contact Mrs. Johnson at velvet.johnson@crownpointeacademy.org or Mrs. Chapman at megan.chapman@crownpointeacademy.org if you have any questions.
Remember to keep selling the Brax Spirit Cups for our PTA fundraiser!  The due date for all orders is October 14th.
Help us reach our goal of 14,000 volunteer commitment hours by logging your volunteer hours.  Demonstrating strong parental involvement can help CPA qualify for grants and other funding opportunities, so it's important that every hour is recorded.  You can fill out the paper log and return it to the office, or you can record your hours online by sending an email to volunteer@crownpointeacademy.org.  Make sure to include your name, your student's name, and the total hours volunteered for the month in the email.  Thank you!
This week's documents include:
Middle School Newsletter 10.5.15
Middle School Parent Teacher Conference Letter
Elementary Parent Teacher Conference Letter
PTA Brax Fundraising Letter
Brax Online Fundraising Flyer
Brax Fundraising Incentives
Spanish October Newsletter 2015
Sweet Tomatoes Fundraiser
Homework Club Flyer
Hyland Hills Youth Basketball Flyer
2015 Winter Basketball Camp Flyer
Have a great week!