Monday Folder 10.9.19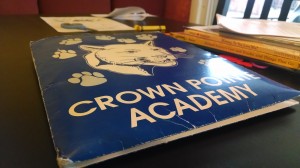 October 9, 2017
Our mission: The mission of Crown Pointe Academy is to promote creativity, curiosity, character, and community in a challenging Core Knowledge environment.
Thank you to all of the families who donated food and beverages to last week's Parent-Teacher Conference dinners, and thank you to the CPA-PTA for organizing those dinners for the staff!
Crown Pointe Academy is looking for a substitute custodian who is able to work the day shift (7:30 a.m. to 3:30 p.m.) the week of October 23rd-27th.  Job responsibilities include breakfast and lunch duty and light cleaning throughout the day.  If you or anyone you know may be interested, please contact the front office at your earliest convenience.
Lost and Found items are still out by the front office.  If your child is missing a coat, sweatshirt, lunch box, water bottle, etc., please come in and claim it!  Items will be left out until Wednesday.  Anything not claimed at that time will be donated.
Make sure you check out this week's Update (attached) for information about a couple of non-uniform days coming up!
As a school, we have recorded 5,031 volunteer hours to date.  Please remember to record all of your volunteer hours and help us reach our volunteering goal of 14,000 hours for the year.  Demonstrating strong parental involvement can help CPA qualify for grants and other funding opportunities, so it's important that every hour is recorded.  You can fill out the paper log and return it to the office, or you can record your hours online by sending an email to volunteer@crownpointeacademy.org.  Make sure to include your name, your student's name, and the total hours volunteered for the month in the email.  Thank you!
This week's documents include:
Update 10.9.17
Middle School Newsletter 10.9.17
Ocotber Spanish Newsletter
Panda Express Spanish Fundraiser
Drama Club Letter (Grades 3-8 ONLY)
Drama Club Permission Form (Grades 3-8 ONLY)
Don't forget to like us on Facebook to stay informed about school activities.
Have a great week!