Monday Folder 11.10.14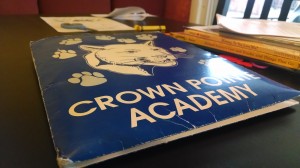 CROWN POINTE ACADEMY
SCHOOL NEWS
Monday, November 10, 2014
 Mission Statement:
The mission of Crown Pointe Academy is to promote creativity, curiosity, character and community in a challenging Core Knowledge environment.
Thank you all of the families who attended Volunteer Work Night last Friday.  We had a great turnout and got many projects completed.  Save the date for our next Volunteer Work Night on December 6th.
To date, we have recorded 3,458 hours as a school.  We are steadily "climbing" our way towards our goal of 14,000 hours for the year.  Be sure to check our our mountain bulletin board by the front office, and watch our forest grow as families complete their volunteer hours.  If you would like information about logging your hours from home using the PTO Manager program, contact Diana Castellano at ext. 104.
Traffic Safety Reminder– Please do not park your cars along 86th Avenue on the west side of the parking lot exit.  When cars are parked there, there is not adequate visibility for cars exiting the parking lot.  There are also No Parking signs posted, and individuals who park along that stretch risk the possibility of being ticketed by the Westminster Police Department.  We appreciate your cooperation.
This is that last week to make reservation for the Annual Thanksgiving Meal for parents and siblings of student's grades 1-8 will be held on November 21st.  Limited number of tickets left.  Reservations will be made on a first come, first served with the reservation form and payment returned to the front office. Due to limited space, you MUST make reservations to attend.  Kindergarten and 4th grade classes will not be participating due to other events this year.
Grading period ends Wednesday, November 12th.  Progress Reports will be sent home Monday, November 17th.  If your student owes more than $10.00 in fines and/or fees, you will not receive their progress report.  Please contact Mrs. MacGregor at x105 if you have any questions.
Event on the Calendar:
Monday, November 10th – 2nd Grade Music Performance at 6:00 pm
Wednesday, November 12th – Middle School Geography Bee at 4:00 pm
Wednesday, November 12th – Academy Board Meeting at 7:00 pm
Friday, November 14th – Elementary Geography Bee at 4:00 pm
Have a wonderful week!
Monday folder flyers for this week:
Update 11.10.14
Middle School Newsletter 11.10.14