Monday Folder 11.13.17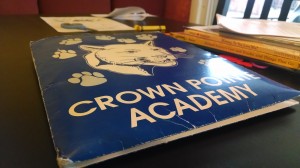 November 13, 2017
Our mission: The mission of Crown Pointe Academy is to promote creativity, curiosity, character, and community in a challenging Core Knowledge environment.
Progress reports were sent home with students today.  If your student has fines or fees of $10.00 or greater, his/her progress report was held at the office.  Please stop by as soon as possible to take care of any outstanding fines or fees in order to receive your student's progress report.
Is your child missing a coat, sweatshirt, lunchbox, water bottle, etc.?  All lost and found items will be put out by the front office through the end of this week.  Anything not claimed by Friday will be donated.
As a reminder, next week is Thanksgiving break and the school will be closed.  We would like to wish all CPA families a safe, happy, and restful Thanksgiving holiday!
As a school, we have recorded 6,088 volunteer hours to date.  Please remember to record all of your volunteer hours and help us reach our volunteering goal of 14,000 hours for the year.  Demonstrating strong parental involvement can help CPA qualify for grants and other funding opportunities, so it's important that every hour is recorded.  You can fill out the paper log and return it to the office, or you can record your hours online by sending an email to volunteer@crownpointeacademy.org.  Make sure to include your name, your student's name, and the total hours volunteered for the month in the email.  Thank you!
This week's documents include:
Middle School Newsletter 11.13.17
Speed Stacks Sale Flyer (Physical Education)
Smashburger Fundraiser Flyer (Spanish Trip)
Don't forget to like us on Facebook to stay informed about school activities.
Have a great week!