Monday Folder 11.14.16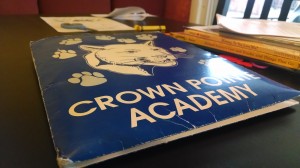 November 14, 2016
Our Mission: The mission of Crown Pointe Academy is to promote creativity, curiosity, character, and community in a challenging Core Knowledge environment.
Progress reports were sent home with students today.  If your child owes fines or fees of $10.00 or greater, his/her progress report was held at the office.
Our annual Chick-fil-a Spirit Night Fundraiser is tomorrow, November 15th from 5:00-8:00 p.m. at the 104th and Federal location.  Chick-fil-a will give up to 20% of all purchases on behalf of Crown Pointe Academy back to our school.  All funds raised will go towards the purchase of an Automated External Defibrillator (AED).  Help us purchase this life saving device!  Make sure you tell the cashier that you're with CPA at the time of purchase, and make sure your student signs in at the Welcome Table.  The class with the most participants will win a Chick-fil-a party!
Is your child missing a coat, sweatshirt, lunch box, water bottle, etc.?  Please stop by the office and check the Lost and Found for missing items!  Lost and Found items will be put out by the front office through the end of the week.
Attention to students in grades K-5: Do you love crafting?  Would you like to give homemade gifts for the holidays?  Girl Scout Troop 3514 is hosting a Holiday Craft Party on Saturday, November 19th from 10:00 a.m. to 12:00 p.m. at CPA.  Each registered child will go home with up to four homemade gifts to give the special people in their lives.
Cost: $15.00 per child if registered in advance; $20.00 at the door.
Adults are free.
Ages 5 and up.
RSVP by November 12th.  To RSVP, click here.
As a school, we have recorded 2,696 volunteer hours.  Please remember to record all of your volunteer hours and help us reach our volunteering goal of 14,000 hours for the year.  Demonstrating strong parental involvement can help CPA qualify for grants and other funding opportunities, so it's important that every hour is recorded.  You can fill out the paper log and return it to the office, or you can record your hours online by sending an email to volunteer@crownpointeacademy.org.  Make sure to include your name, your student's name, and the total hours volunteered for the month in the email.  Thank you!
This week's documents include:
Middle School Newsletter
Chick-fil-a Spirit Night Fundraiser Flyer
December Breakfast and Lunch Menu
Rev Foods Newsletter
December Reading Calendar
December Commitment Hours Form
Holiday Craft Party Flyer
Hyland Hills Gymnastics Flyer
International Towne Information and Permission Slip (MS Only)
Have a great week!
The EXPO Learning Lab is looking for parents and community members to share their talents with students.  The EXPO is an all hands on learning environment that CPA launched this year.
If you would like to sponsor the EXPO, check us out online here, or like us on Facebook to receive updates and information about what is happening in the EXPO classes.