Monday Folder 11.17.14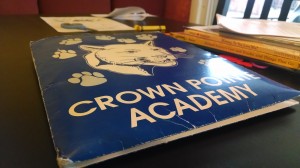 CROWN POINTE ACADEMY
SCHOOL NEWS
Monday, November 17, 2014
 Mission Statement:
The mission of Crown Pointe Academy is to promote creativity, curiosity, character and community in a challenging Core Knowledge environment.
IMPORTANT:  If your child is missing an item please be sure to check the lost and found.  Any unclaimed items will be donated Friday afternoon.
PTA ANNOUNCEMENT:  Unfortunately, due to unforeseen circumstances, we will not be utilizing the Right Response online services.  However, if someone wishes to pay by credit card, we can make arrangements to meet at the school.  Otherwise, form of payment will need to be cash or check.
If you made reservations for the Thanksgiving Meal being held on November 21st you will need to get your tickets at the front office on the day of the event before proceeding to the cafeteria.  Due to limited space, only those with reservations can attend.  The lunch schedule is noted below.
Lunch Schedule:
11:10 – 1st Grade (Strass)
11:15 – 1st Grade (Holmes)
11:20 – 2nd Grade (Winham)
11:25 – 2nd Grade (Hubin)
11:30 – 3rd Grade (Ruskusky)
11:35 – 3rd Grade (Segal)
11:40 – 4th Grade (Felten)
11:45 – 4th Grade (Yang)
11:50 – 5th Grade (Hardy)
11:55 – 5th Grade (Reichert)
12:00 – Middle School (Check with your student)
12:30 – Middle School (Check with your student)
Progress reports will go home today, November 17th.  If your child owes more than $10.00 in fines and/or fees you will not receive their progress report.  Please contact Mrs. MacGregor if you have any questions.
As a school, we have recorded 3870 volunteer hours.  Keep turning in your hours and help us reach our goal of 14,000 hours for the year.  If you would like information on how to record your hours from home, please contact Diana Castellano at extension 104 for information on PTO Manager.
CPA Fundraiser, Tuesday, November 18th at Beau Jo's Pizza located in Arvada.  Beau Jo's will donate 20% of sales to Crown Pointe.  Flyer must be presented.  Kids 12 and under eat free!  Hope to see you there!
Middle School Science Fair is begins Wednesday, November 19th and runs through Friday, November 21st.
Event on the Calendar:
Tuesday, November 18th – Beau Jo's Family Night
Wednesday, November 19th – Kindergarten Thanksgiving Feast at 10:45 am
Thursday, November 20th – BAAC Meeting at 6:30 pm
Friday, November 21st – 1st thru 8th Grade Thanksgiving Feast
Have a great Thanksgivings!  See you on Monday, December 2nd.
Monday folder flyers for this week:
Middle School Newsletter 11.17.14
December Menu
December Reading Calendar
December Commitment Hours Form
Beau Jo's CPA Family Night