Monday Folder 11.2.15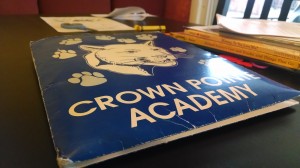 November 2, 2015
Our Mission: The mission of Crown Pointe Academy is to promote creativity, curiosity, character, and community in a challenging Core Knowledge environment.
Our beloved middle school teacher, Mr. Bob Graybeal, is retiring and we would like to invite you for cake and punch to celebrate his years of service to CPA.  The entire Crown Pointe community is invited to attend his retirement open house on Tuesday, November 10th from 4:00-5:30 in the CPA cafeteria.  If you have connections with any former students, please spread the word!  No gifts please, but a card expressing your well wishes would be appreciated.  Please RSVP at the following link:  http://evite.me/AZJxX52rXY   Thank you!
*** IMPORTANT! The last day for the drop in Homework Club will be Thursday, November 19th.  There will not be Homework Club after that date.
The Crown Pointe Academy Bully Busters are up and running, and they have designed this year's green, Bully Busters t-shirt.  Please see the order form on the CPA website if you want to purchase one of these shirts.  Contact Mrs. K, CPA's school counselor, if you have questions:  kari.knutson@crownpointeacademy.org, or (303) 428-1882 ext. 115.
Join us on Friday for Volunteer Work Night from 5:30-8:30 p.m.  Help teachers complete classroom projects, get to know other CPA families, and earn some commitment hours!  Child care, drinks, and snacks will be provided.  We hope to see you there!

As a school, we have logged 1,493 volunteer hours this year.  Help us reach our goal of 14,000 volunteer commitment hours by logging your volunteer time. Demonstrating strong parental involvement can help CPA qualify for grants and other funding opportunities, so it's important that every hour is recorded.  You can fill out the paper log and return it to the office, or you can record your hours online by sending an email to volunteer@crownpointeacademy.org.  Make sure to include your name, your student's name, and the total hours volunteered for the month in the email.  Thank you!
This week's documents include:
Middle School Newsletter 11.2.15
Bully Buster Tshirt order form 2015

Have a great week.