Monday Folder 11.3.14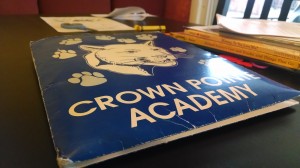 CROWN POINTE ACADEMY
SCHOOL NEWS
Monday, November 3, 2014
Mission Statement:
The mission of Crown Pointe Academy is to promote creativity, curiosity, character and community in a challenging Core Knowledge environment.
Reminder!  Volunteer Work Night is this Friday, November 7th from 5:30 to 8:30 p.m.  Join us in the cafeteria to complete projects for the teaching staff.  This is a great way to earn some hours and get to know other CPA families.  Drinks, light snacks, and child care will be provided.  We hope to see you there!
To date, we have recorded 3,010 hours as a school.  We are steadily "climbing" our way towards our goal of 14,000 hours for the year.  Be sure to check our mountain bulletin board by the front office, and watch our forest grow as families complete their volunteer hours.  If you would like information about logging your hours from home using the PTO Manager program, contact Diana Castellano at ext. 104.
The Annual Thanksgiving Meal for parents and siblings of student's grades 1-8 will be held on November 21st.  There are a limited number of tickets.  Reservations will be made on a first come, first served with the reservation form and payment returned to the front office. Due to limited space, you MUST make reservations to attend.  Kindergarten and 4th grade classes will not be participating due to other events this year.
Event on the Calendar:
Wednesday, November 5th – Middle School Spelling Bee at 4:00 pm
Thursday, November 6th – PTA Meeting at 6:15 pm
Friday, November 7th – Elementary School Spelling Bee at 4:00 pm
Friday, November 7th – Volunteer Work Night from 5:30-8:30 pm
Enjoy your week!
Monday folder flyers for this week:
Middle School Newsletter 11.3.14
Thanksgiving Meal Reservation Form
Spanish Class Newsletter November 2014
Volunteer Work Night Flyer