Monday Folder 11.30.15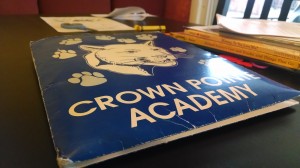 November 30, 2015
Our Mission: The mission of Crown Pointe Academy is to promote creativity, curiosity, character, and community in a challenging Core Knowledge environment.
We hope that everyone enjoyed a happy and restful break!
**IMPORTANT REMINDER!  There will no longer be after school homework club on Tuesdays, Wednesdays, and Thursdays.  Thank you to all who participated, and a big THANK YOU to Mrs. Chapman and Mrs. Johnson for all of their hard work.
Come and hear the CPA Choir perform at the City of Westminster Holiday Lighting Ceremony this Saturday, December 5th at 6:30 PM at Westminster City Hall (4800 West 92nd Avenue).  We hope you'll join us for the festivities!
Join us for Parent Information Night and the PTA meeting this Thursday, December 3rd at 6:00 p.m.  This month's guest speaker is Ms. Pam O'Neal, CPA's music teacher, who will be presenting on Music and the Mind.  We hope to see you there!
There is a fun upcoming event hosted by your local CPA Girl Scouts– Family and Friends Night with the University of Denver hockey team!  The date of this event is December 12th when DU takes on the St. Cloud State Huskies, and there's a special bonus.  Along with your purchase of a hockey ticket, you'll get access to the women's gymnastics Intrasquad meet and even have the chance to talk with the coach and some gymnasts.  After the gymnastics event, head over to the hockey rink and enjoy the game!  It's simple to purchase tickets.  Go to: http://ev9.evenue.net/cgi-bin/ncommerce3/EVExecMacro?&DB_OEM_ID=18600&linkID=denver&evm=prmo&RSRC=&RDAT=&caller=PR" and enter the promo code GIRLSCOUTS.  Then choose your own seats and print your tickets from home.  You won't want to miss out on this fun event!  See the attached flyer for more information.
As a school, we have logged 3,514 volunteer hours this year.  Help us reach our goal of 14,000 volunteer commitment hours by logging your volunteer time. Demonstrating strong parental involvement can help CPA qualify for grants and other funding opportunities, so it's important that every hour is recorded.  You can fill out the paper log and return it to the office, or you can record your hours online by sending an email to volunteer@crownpointeacademy.org.  Make sure to include your name, your student's name, and the total hours volunteered for the month in the email.  Thank you!
This week's documents include:
Update 11.30.15
Middle School Newsletter 11.30.15
PTA Info Night 12.3.15
King Soopers Flyer
Commitment Hours Form
December Menu
December Reading Calendar
Girl Scouts DU Hockey Flyer
Have a great week!