Monday Folder 12.11.17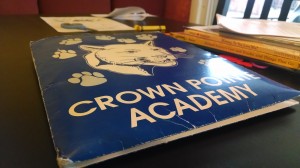 December 11, 2017
Our mission: The mission of Crown Pointe Academy is to promote creativity, curiosity, character, and community in a challenging Core Knowledge environment.
We are seeking your feedback on next year's school calendar.  Please complete the short survey here to let us know your preferences for a school calendar.  If you would like to know more about the proposed calendar options, there will be a calendar discussion meeting this Wednesday, December 13th at 6:00.
The CPA Student Council is sponsoring a canned food drive this week, December 11th-15th.  Students are encouraged to bring in non-perishable food items, baby food, spices, and personal hygiene items and place them in their classroom's box.  The class that collects the most items will win a party!  See the flyer on the CPA website for more information.
This Thusday is Orange Thursday as the Denver Broncos take on the Indianapolis Colts.  Students may wear Denver Broncos shirts or plain orange or blue shirts to school.  Students who purchased jeans for the year may also wear jeans on Thursday.
We have some fun events coming up next week as we approach Winter Break.  Next Tuesday, December 19th is Pajama Day.  Students may wear school appropriate pajamas to school.  On Wednesday, December 20th, students may wear school appropriate holiday shirts along with jeans if they purchased jeans for the year.  At 10:15 next Wednesday, December 20th, we will have the holiday sing-a-long for students in grades K-5.  If you plan to come for your student's classroom party, please park in the lot behind the shopping center for overflow parking.
As a school, we have recorded 6,593 volunteer hours to date.  Please remember to record all of your volunteer hours and help us reach our volunteering goal of 14,000 hours for the year.  Demonstrating strong parental involvement can help CPA qualify for grants and other funding opportunities, so it's important that every hour is recorded.  You can fill out the paper log and return it to the office, or you can record your hours online by sending an email to volunteer@crownpointeacademy.org.  Make sure to include your name, your student's name, and the total hours volunteered for the month in the email.  Thank you!
This week's documents include:
Middle School Newsletter 12.11.17
Cicis Family Night Flyer (Spanish Fundraiser)
Don't forget to like us on Facebook to stay informed about school activities.
Have a great week!