Monday Folder 12.15.14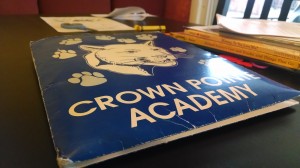 CROWN POINTE ACADEMY
SCHOOL NEWS
Monday, December 15, 2014
 Mission Statement:
The mission of Crown Pointe Academy is to promote creativity, curiosity, character and community in a challenging Core Knowledge environment.
IMPORTANT:  If your child is missing an item please be sure to check the lost and found.  Any unclaimed items will be donated Friday afternoon.
2nd

Quarter ends Friday, December

19th

.  Report cards will be sent home Tuesday, January

6th

when students return from winter break.  If your student owes more than $10.00 in fees and/or fines, you will not receive their report card. 
As a school, we have recorded 4,839 hours this year.  Thank you to all who have given time to our school this semester.  We appreciate all of your hard work!  There are still many opportunities to volunteer coming up in the second semester.  If you need ideas or would like more information about volunteering, please contact Diana Castellano at ext. 104.
Parents and Guardians!  Make sure you read the Director's portion of this week's Update for an important message from the Academy Board President, Bill Marrs.  Thank you!
We would like parents to take a short survey to find out about a possible interest in a CPA school store.  Please visit our website if you are interested in taking the survey.
Check your student's Monday folder for your Skate City Winter Break Free Skating Passes! With all of the holiday cheer going on, this is a great way to add a fun, healthy activity for the students during the break. The skating passes are for free admission ($2.00 skate rental if needed) and each flyer contains three free passes. The passes can be used by the students and/or any family member. Each skater will need a pass for the free admission. Skate City wants to thank you and everyone at Crown Pointe Academy for participating in our skate programs. Please consider this a token of their appreciation, and let's bring cheer and fun to the holiday season and a fantastic new year!
Event on the Calendar:
Monday, December

15th

 –

3rd

 Grade Music Program at 6:00 pm
Monday, December

15th

 – Academy Board Meeting at 7:00 pm
Tuesday, December

16th

 – Arby's CPA Family Night
Thursday, December

18th

 – Pajama Day
Friday, December

19th

 – Holiday T-Shirt Day (with jeans $1.00)
Have a happy and safe Winter Break!  See you on January 6, 2015!
Monday folder flyers for this week are:
Update 12.15.14
Middle School Newsletter 12.15.14
CPA Boy Scout Flyer
NAEP Letter 8th Grade
NAEP Letter 8th Grade Spanish
January Menu
January Commitment Hours Form
January Reading Calendar