Monday Folder 12.19.16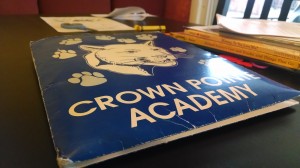 December 19, 2016

Our Mission: The mission of Crown Pointe Academy is to promote creativity, curiosity, character, and community in a challenging Core Knowledge environment.
This is a fun week at CPA!  As we approach winter break, there are some special events on the calendar:
​

Tomorrow

is Pajama Day at CPA!  Students are allowed to wear school appropriate pajamas, robes, and slippers to school.  Please send your student with shoes to wear outside and for PE.

Wednesday

is Holiday Shirt Day!  Students are allowed to wear school appropriate holiday themed shirts to school.  Students who purchased jeans may wear jeans

on Wednesday

as well.
Elementary parents– watch your classroom newsletters for information about holiday parties taking place

on Wednesday

.
If you plan to attend your student's holiday party on Wednesday and the school's parking lot is full when you arrive, please use the back parking lot of the shopping center to the south of the school for overflow.  Please do not park in the condo parking areas, and be sure to observe any posted signage.
Make sure you stop by the Lost and Found table by the office to claim any missing coats, sweatshirts, and lunchboxes before the end of the semester.  Anything not claimed by the end of the day on Wednesday will be donated.
As a school, we have recorded 3,419 volunteer hours.  Please remember to record all of your volunteer hours and help us reach our volunteering goal of 14,000 hours for the year.  Demonstrating strong parental involvement can help CPA qualify for grants and other funding opportunities, so it's important that every hour is recorded.  You can fill out the paper log and return it to the office, or you can record your hours online by sending an email to volunteer@crownpointeacademy.org.  Make sure to include your name, your student's name, and the total hours volunteered for the month in the email.  Thank you!
This week's documents include:
Middle School Newsletter 12.19.16
Update 12.19.16
January Breakfast & Lunch Menu
January Rev Foods Newsletter
January Reading Calendar
January Commitment Hours Form

On behalf of the CPA staff, we wish you all a safe and happy winter break!
The EXPO Learning Lab is looking for parents and community members to share their talents with students.  The EXPO is an all hands on learning environment that CPA launched this year.
If you would like to sponsor the EXPO, check us out online here, or like us on Facebook to receive updates and information about what is happening in the EXPO classes.