Monday Folder 12.8.14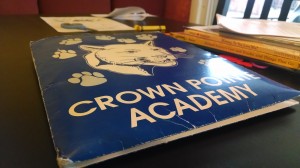 CROWN POINTE ACADEMY
SCHOOL NEWS
Monday, December 8, 2014
 Mission Statement:
The mission of Crown Pointe Academy is to promote creativity, curiosity, character and community in a challenging Core Knowledge environment.
Thank you to all who attended last Friday's Volunteer Work Night!  We appreciate your time and commitment to CPA.
As a school, we have recorded a total of 4,665 hours for the year.  Please keep logging your time and help us reach our goal of 14,000 hours for the year.  If you would like more information about volunteering or how to log your hours from home, please contact Diana Castellano at extension 104.
Thursday, December 18th is Pajama Day at CPA.  Students are invited to wear comfy, school appropriate pajamas that day. Friday, December 19th is Holiday-themed Shirt Day.  Students are invited to wear a holiday-themed t-shirt, and they may wear jeans for $1.00 as normal.
Join us for the all school holiday sing-a-long on Friday, December 19th at 10:00 a.m.  This fun, annual event will start with a performance by the CPA choir and end with the whole school singing some favorite holiday carols.  We hope to see you there!
Make sure you watch your classroom newsletters for information about holiday parties on December 19th.
Middle School dance will be held Friday, December 12th  from 6:00-9:00 pm.  Permission forms must be turned in by Thursday, December 11th  along with $3.00 if you plan on attending.  Must have a minimum of 30 permission slips by Wednesday, December 10th or the dance will be canceled.
Event on the Calendar:
Wednesday, December 10th  – Academy Board Meeting at 7:00 pm
Friday, December 12th – Middle School Dance from 6:00-9:00 pm
Monday folder flyers for this week:
Middle School Newsletter 12.8.14
PARENT-STAFF DIRECTOR EVAL LETTER 12-8-14