Monday Folder 2.13.17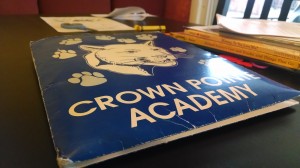 February 13, 2017

Our Mission: The mission of Crown Pointe Academy is to promote creativity, curiosity, character, and community in a challenging Core Knowledge environment.
Progress reports were sent home today.  If you did not receive a progress report for your child, he/she may owe fines or fees.  Please contact the office if you have questions about fines or fees owed.
For Valentine's Day tomorrow, students are allowed to wear solid pink, red, or white shirts or a school-appropriate Valentine's Day themed shirt.  Students who paid for jeans may also wear jeans tomorrow.  If your student did not purchase jeans for the year, regular uniform pants are required.
Attendance Reminder: We recognize the direct relationship between attendance and achievement.  Students who attend school and arrive on time on a regular basis develop good habits in punctuality, self-discipline, and responsibility.  Students who have more than 10 tardies must serve a mandatory after school detention every time they are tardy for the remainder of the year.  Please remember students are considered tardy if they are not in their classroom when the bell rings at 8:00.  Thank you! 
Dance your way to health!  CPA is now offering Zumba to staff, parents, and friends on Mondays from 4:00-5:00 in the gym.  The cost is $5.00 per class.  Contact Leslie in the office with any questions.
Make sure you check out this week's Update (attached) for important information from Mr. O about our School Performance Framework!
As a school, we have recorded 5,226 volunteer hours.  Please remember to record all of your volunteer hours and help us reach our volunteering goal of 14,000 hours for the year.  Demonstrating strong parental involvement can help CPA qualify for grants and other funding opportunities, so it's important that every hour is recorded.  You can fill out the paper log and return it to the office, or you can record your hours online by sending an email to volunteer@crownpointeacademy.org.  Make sure to include your name, your student's name, and the total hours volunteered for the month in the email.  Thank you!
This week's documents include:
Middle School Newsletter 2.13.17
Update 2.13.17
Book Fair Volunteer Flyer
Great Scott's Fundraiser Flyer (Spanish Trip)
Mumps Information from the State of Colorado
Immunization Assistance Information and Low-cost Immunizations for Children & Teens
The EXPO Learning Lab is looking for parents and community members to share their talents with students.  The EXPO is an all hands on learning environment that CPA launched this year.
If you would like to sponsor the EXPO, check us out online here, or like us on Facebook to receive updates and information about what is happening in the EXPO classes.