Monday Folder 2.17.15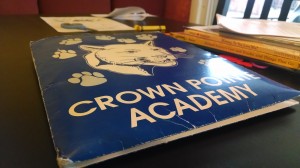 CROWN POINTE ACADEMY
SCHOOL NEWS
Tuesday, February 17, 2015
 Mission Statement:
The mission of Crown Pointe Academy is to promote creativity, curiosity, character and community in a challenging Core Knowledge environment.
Reminder for all elementary parents and guardians!  Online parent-teacher conference registration is currently available the Volunteer Spot program.  Visit www.crownpointeacademy.org and click on the link that will direct you to your teacher's sign up page.  If you do not register by Thursday, February 19th, a time slot will be assigned to you for conferences.  Please contact your student's teacher directly with questions or if you are having trouble signing up.  Thank you!
Progress Reports will be sent home in Monday folders.  If your student owes more than $10.00 in fines and/or fees you will not receive their progress report.  Contact Mrs. MacGregor at 303-428-1882 x105 if you have any questions.
Event on the Calendar:
Thursday, February 19th – BAAC Meeting at 6:30 pm
Friday, February 20th – PTA Movie Night at 6:30 pm

Monday folder flyers for this week are:
Tardy and Attendance Reminder
CPA PTA Open Board Position
Zumba Class Flyer
Bully Buster Information Flyer
Bully Buster T-shirt order form
Middle School Newsletter 2.17.15
Update 2.17.15