Monday Folder 2.2.15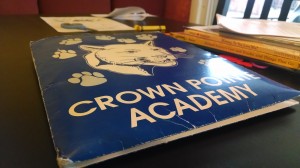 CROWN POINTE ACADEMY
SCHOOL NEWS
Monday, February 2, 2015
Mission Statement:
The mission of Crown Pointe Academy is to promote creativity, curiosity, character and community in a challenging Core Knowledge environment.
Thank you to all of the families who attended last Friday's Volunteer Work Night!  As a school, we have recorded 5,900 hours for the year.  Keep logging and submitting your volunteer hours to help us reach our goal of 14,000 hours for the year.  If you have questions about your hours or volunteering, please contact Diana Castellano at ext. 104.
Friday, February 6, from 6:30 to 9:00, the Middle School Social Committee is hosting a dance for all Middle School students!  The cost is $3 per student.  Permission slips must be returned to the office no later than 4:00 pm on Thursday February 5th.  Permission slips will NOT be accepted after that time!  Light snacks and drinks will be provided.  The theme is "It's Always a Good Time"! Students can dress up in character from any time period – past, present, or future!  Have your pictures taken with your friends in the PHOTO BOOTH provided by 5280 Rentals!   Prints included!  No matter what time period you prefer – It's Always a Good Time!
Event on the Calendar:
Thursday, February 5th – PTA Special Speaker, Mr. Hemming from CSI at 5:30 pm
Thursday, February 5th – PTA Meeting at 6:15 pm
Friday, February 6th – Middle School Dance from 6:30-9:00 pm
Monday folder flyers for this week are: