Monday Folder 2.22.16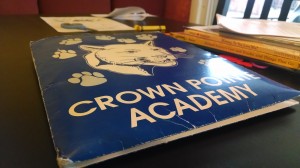 February 22, 2016
Our Mission: The mission of Crown Pointe Academy is to promote creativity, curiosity, character, and community in a challenging Core Knowledge environment.
Parent-Teacher Conferences are this Thursday, February 25th from 4:00-9:00 and Friday, February 26th from 11:00 to 7:00.  Elementary parents need to sign up for their time slot using the Volunteer Spot program.  Middle school conferences will take place on a drop in, first come, first served basis.  Please see the letters on the CPA website for more information on conferences.  We look forward to seeing you on Thursday and Friday!
Don't forget to stop by the library this week for the Scholastic Book Fair!  The Book Fair will be open for family night on Tuesday until 6:00 p.m. and during the hours of Parent-Teacher conferences.
Crown Pointe Academy is excited to host the first annual Charter School Academic Challenge this Saturday, February 27th.  This event gives local charter school students the opportunity to compete against each other in a fun, positive, academic environment.  Saturday's events include the Elementary Science Fair, Elementary Geography Bee, Elementary Spelling Bee, Middle School Science Fair, Middle School Geography Bee, Middle School Spelling Bee, and Middle School Math Counts.
We would like to congratulate and wish the following students best of luck: Elementary Science Fair: Chandler T., Benjamin W., Carter S. Elementary Geography Bee: Beau N., Sarah C., Emma B. Elementary Spelling Bee: Anthony M., Alex T., Sabastian M-B., Middle School Science Fair: John A., Kenny H., Marissa A., Calista B. Middle School Geography Bee: Noah L., Benton D., Carson V., Hunter V. Middle School Spelling Bee: Calista B., Marissa A., Asher A. Middle School Math Counts: Kenny H., Carlos R-H., Ricky N., Jaden C., Marissa R., Greg M., Joe Q., and Lizeth G.
Parent surveys will be open through Friday night.  To take your survey, visit the CPA website and click on the Parent Surveys link.  If we get 75% participation or higher, the whole school will earn a non-uniform day!
Attention!  Wednesday Morning Open Gym and Wednesday afternoon FISH are canceled this week!  Mr. Varner will be out, but he will see you next week.
Our middle school science program is looking for toilet paper and paper towel rolls (with no paper remaining on them) for a project.  Please collect these items at home and turn them into the office.  Thank you!
This week's documents include:
Middle School Newsletter 2.22.16
Elementary Parent Teacher Conference Letter
Middle School Parent Teacher Conferences Letter
Have a great week!