Monday Folder 2.23.15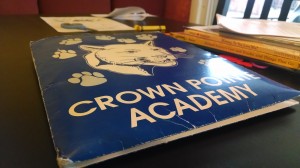 CROWN POINTE ACADEMY
SCHOOL NEWS
Monday, February 23, 2015
 Mission Statement:
The mission of Crown Pointe Academy is to promote creativity, curiosity, character and community in a challenging Core Knowledge environment.
To date, we have recorded over 6,900 volunteer hours.  Make sure you keep recording your volunteer time to help us reach our goal of 14,000 hours for the year. 
Save the date for our next Volunteer Work Night on Friday, March 6th from 5:30-8:30 p.m.  Help us complete classroom projects and get to know other CPA families.  Child care, drinks, and light snacks will be provided.  We hope to see you there! 
Parent-Teacher Conferences are this Thursday, February 26th and Friday, February 27th.  Elementary parents — look for your confirmation slip in today's Monday Folder.  If there is any conflict in scheduling, make sure you contact your student's teacher.
Parent surveys will open on Thursday, February 26th and close on March 6th.  To access the survey, visit www.crownpointeacademy.org and click on the links to access the survey.  Look for the letter in today's Monday Folder for more information.  
Event on the Calendar:
Monday, February 23rd – 4th Grade Music Performance at 6:00 pm
Wednesday, February 25th – Special Academy Board Meeting at 7:00 pm
Wednesday, February 25th – Family Night at Book Fair 4:00-6:30 pm
Thursday, February 26th – Parent Teacher Conferences 4:00-9:00 pm
Friday, February 27th – Parent Teacher Conferences 11:00-7:00 pm
No School for students on Friday, February 27th – Parent Teacher Conferences 
Monday folder flyers for this week are:
Middle School Newsletter 2.23.15
PTA Information Night Flyer
Parent Survey Information Letter
March Menu
March Reading Calendar
March Commitment Hours Form