Monday Folder 2.27.17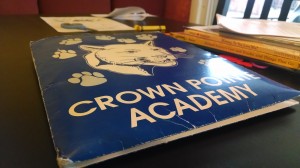 February 27, 2017

Our Mission: The mission of Crown Pointe Academy is to promote creativity, curiosity, character, and community in a challenging Core Knowledge environment.
Parent-Teacher Conferences are this Thursday, March 2nd from 4:00-9:00 p.m. and Friday, March 3rd from 11:00 a.m.-7:00 p.m. Elementary parents need to sign up for their time slot(s) using SignUp.com.  Please see the information on the CPA website for step-by-step directions on how to sign up, or click HERE to go to the SignUp.com page.  Middle school conferences will take place on a drop in, first come, first served basis.  We look forward to seeing you on March 2nd or 3rd!
The CPA-PTA needs your help with parent-teacher conference dinners for teachers and staff.  If you would be willing to provide a dish or beverages for conference dinners on Thursday, March 2nd or Friday, March 3rd, please complete the form on the CPA website and return it to the office by Tuesday, February 28th.  You can also sign up by clicking HERE.
It's that time of year to place your Summer Bridge Workbook order.  The deadline to order is March 23rd.  Please see the flyer and order form on the CPA website for more information.
The First Round Choice Enrollment form is also on the CPA website.  In order to guarantee your student's space for next year, the form must be completed and turned into the office no later than Friday, March 10th.
Make sure you check out this week's Update (attached) for information on ordering your 2016-2017 yearbook!
This week's documents include:
Middle School Newsletter 2.27.17
Update 2.27.17
Summer Bridge Book Information and Order Form
First Choice Enrollment Form
March Breakfast and Lunch Menu
March Reading Log
March Commitment Hours Form
The EXPO Learning Lab is looking for parents and community members to share their talents with students.  The EXPO is an all hands on learning environment that CPA launched this year.
If you would like to sponsor the EXPO, check us out online here, or like us on Facebook to receive updates and information about what is happening in the EXPO classes.