Monday Folder 2.9.15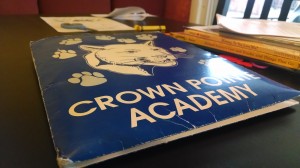 CROWN POINTE ACADEMY
SCHOOL NEWS
Monday, February 9, 2015
Mission Statement:
The mission of Crown Pointe Academy is to promote creativity, curiosity, character and community in a challenging Core Knowledge environment.
Information about our upcoming parent-teacher conferences is included in all Monday Folder's today.  Elementary parents and guardians– all conference sign ups will be done online for spring conferences.  Make sure you read the letter in your student's Monday Folder that details how to sign up!  You can also visit www.crownpointeacademy.org for more information.
As a school, we have recorded over 6,200 volunteer hours for the year.  Keep volunteering and keep logging your hours to help us reach our goal of 14,000 hours this school year!
CPA Skate Party at Skate City in Westminster on Sunday, February 15, from 6pm to 8pm! And there's no school the next day!  Invite your friends!  Admission is $4.50 (skate rental $1.50).  Every paid skater gets a free slice of pizza AND helps earn money for your school! Come on out and join the fun! 
Event on the Calendar:
Monday, February 9th – 5th Grade Music Performance at 6:00 pm
Wednesday, February 11th – Academy Board Meeting at 7:00 pm
No School on Monday, February 16th – President's Day
Monday folder flyers for this week are:
Middle School Newsletter 2.9.15
February Rev Foods Promo Flyer
PTA Information Night Flyer
Skate City Flyer
Parent Teacher Conferences Elementary
Parent Teacher Conferences Middle School
PTA Conference Meals