Monday Folder 3.13.17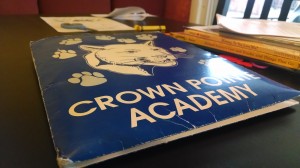 March 13, 2017

Our Mission: The mission of Crown Pointe Academy is to promote creativity, curiosity, character, and community in a challenging Core Knowledge environment.
Thank you to all who attended and contributed to Friday's fundraiser for Jamille!
Tomorrow is Spring Picture Day. This is a non-uniform day for all students.  Kindergarten and 8th grade students will take their graduation/continuation pictures as well. Order forms will be sent home with students approximately 2 weeks after picture day. Contact the front office with any questions.
Are you looking for volunteer hours?  Stop by the cafeteria during dismissal on Friday, March 17th for our Brown Bag Pick Up event.  Grab a project, complete it over the weekend, and return it back to the office next Monday.  Contact the front office with any questions.
Make sure you check out this week's Update (attached) for important information about upcoming State testing.
This week's documents include:
Middle School Newsletter 3.13.17
Update 3.13.17
Panera Fundraiser Flyer (Spanish Trip)
Talent Show Sign Up Form

The EXPO Learning Lab is looking for parents and community members to share their talents with students.  The EXPO is an all hands on learning environment that CPA launched this year.
If you would like to sponsor the EXPO, check us out online here, or like us on Facebook to receive updates and information about what is happening in the EXPO classes.