Monday Folder 3.14.16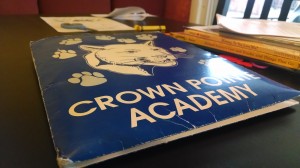 March 14, 2016
Our Mission: The mission of Crown Pointe Academy is to promote creativity, curiosity, character, and community in a challenging Core Knowledge environment.
Spring Picture Day is TOMORROW,  Tuesday, March 15, 2016.  This is a non-uniform picture day.  We will be taking spring pictures, kindergarten graduation pictures, and 8th grade continuation pictures.  A proof sheet and order form will be sent home tomorrow so you can view your child's picture. If you decide to order pictures, please return the order form with payment enclosed to the school by Friday, March 18th. Pictures may also be ordered through Vangoghco.com. Online orders will be mailed directly to your home and additional shipping costs will be added. If you have any questions please call Leslie or Trisha at 303-428-1882.  Thank you!
The Academy Board is seeking candidates for two open parent Board positions.  The Call for Candidates and Declaration forms were sent home today with all students, and you can also find them on the CPA website.  The term for these positions will run from July 1, 2016 to June 30, 2018.  Declarations are due to the office by Friday, April 8th.
At last Wednesday's Board meeting, the Academy Board approved calendars for the 2016-2017 and 2017-2018 school years.  They are available on the CPA website.
In order to ensure that Summer Bridge Workbooks are here before the end of the school year, we will be placing our order early this year.  The deadline to order is March 23, 2016.  Please see the flyer and order form on the CPA website for more information.
Our middle school science program is looking for toilet paper and paper towel rolls (with no paper remaining on them) for a project.  Please collect these items at home and turn them into the office.  Thank you!
As a school, we have logged 6,856 volunteer hours this year.  Help us reach our goal of 14,000 volunteer commitment hours by logging your volunteer time. Demonstrating strong parental involvement can help CPA qualify for grants and other funding opportunities, so it's important that every hour is recorded.  You can fill out the paper log and return it to the office, or you can record your hours online by sending an email to volunteer@crownpointeacademy.org.  Make sure to include your name, your student's name, and the total hours volunteered for the month in the email.  Thank you!
This week's documents include:
Update 3.14.16
Middle School Newsletter 3.14.16
2016-2017 Approved Calendar
2017-2018 Approved Calendar
Board Call for Candidates and Declaration
Choir and Ukulele Concert Information
Talent Show Information
Cici's Spanish Fundraiser Flyer
Summer Bridge Book Order Form
Have a great week!