Monday Folder 3.16.15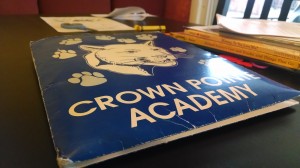 CROWN POINTE ACADEMY
SCHOOL NEWS
Monday, March 16, 2015

Mission Statement:
The mission of Crown Pointe Academy is to promote creativity, curiosity, character and community in a challenging Core Knowledge environment.
PARCC testing started today and will continue daily through the week for student's grades 3-5.  All testing takes place in the mornings prior to lunch, so please plan any appointments for the afternoon.  Please have your student on time to school. 
Picture Day is Tuesday March 17th.  This is a non uniform picture day.  We will be taking spring, kindergarten graduation and 8th grade continuation pictures.  A proof sheet will be sent home on the same day for your viewing. Please return the proof form with payment enclosed to the school within 3 days.  We realize traditionally CPA allows green shirts to be worn on Saint Patrick's Day.  Because Van Gogh uses a green screen background, green is not a good color to wear for pictures.  As a compromise, students have the option of changing before their picture is taken.  If you have any questions please call Leslie at 303-428-1882.
Report cards will be sent home, Monday March 23rd.  If your student owes more than $10.00 in fines and/or fees, you will not receive their report card.  Contact Sandi MacGregor at x105 if you have questions.
Save the date for our final Volunteer Work Night of the year on Friday, April 10th from 5:30-8:30 p.m.  There are still many opportunities to volunteer and help us reach our goal of 14,000 hours for the year.  As a school, we have recorded over 8,000 hours for the year, which is 1,000 hours more than we had at this same time last year!  Keep up the good work!

Event on the Calendar:
Tuesday, March 17th – Picture Day
Thursday, March 19th – BAAC Meeting at 6:30 p.m.
Friday, March 20th, no school for students – Teacher Work Day
Monday folder flyers for this week are:
Update 3.16.15
Middle School Newsletter 3.16.15
Spring Registration Form
Green Shirt Day Update
PTA – Information Night Flyer