Monday Folder 3.2.15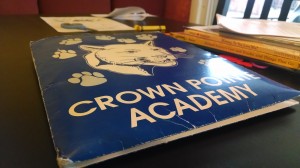 CROWN POINTE ACADEMY
SCHOOL NEWS
Monday, March 2, 2015
Mission Statement:
The mission of Crown Pointe Academy is to promote creativity, curiosity, character and community in a challenging Core Knowledge environment.
Make sure you read today's Update for important information regarding state-mandated PARCC testing, which will start on Monday, March 9th.  Student attendance during the testing window is critical!  Please contact Mr. Ouweneel, Mrs. Keyes, or your child's teacher if you have any questions.  
Don't forget to fill out your Parent Survey!  Visit www.crownpointeacademy.org and click on the link to access the survey.  The time spent completing the survey will count towards your volunteer hours.  The survey closes on Friday, March 6th and if we get 75% participation, the entire school will receive a non-uniform day!
Join us Friday, March 6th for Volunteer Work Night from 5:30-8:30 p.m.  The teachers need your help completing classroom projects!  Light snacks, drinks, and child care will be provided.  We hope to see you there!
As a school, we have recorded nearly 7,100 hours for the year.  There are still many opportunities to help out for the school year!  Contact Diana Castellano (x104) or your child's teacher if you have any questions about volunteering at CPA.  Help us reach our goal of 14,000 hours for the year!
Event on the Calendar:
Thursday, March 5th – PTA Meeting and Parent Info Night 6:00-7:45 pm
Friday, March 6th – Volunteer Work Night from 5:30-8:30 pm
Saturday, March 7th – DI Regional's @Vista Peaks H.S. 9:00-3:00 pm
Saturday, March 7th – Celebrating Academic Excellence @ Hodgkins Elementary 7:30-3:00 pm
Monday folder flyers for this week are:
Update 3.2.15
Middle School Newsletter 3.2.15
PTA Information Night Flyer
Volunteer Work Night Flyer
Rev Foods Newsletter March 2015
New March Meals Flyer
Middle School Girls Spring Volleyball Flyer