Monday Folder 3.21.16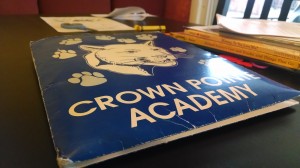 March 21, 2016
Our Mission: The mission of Crown Pointe Academy is to promote creativity,
curiosity, character, and community in a challenging Core Knowledge
environment.
Report cards were sent home today. If your child has fines or fees of $10.00 or higher, his/her report card was held at the office. Please stop by as soon as possible to receive your child's report card.
Green Shirt Day, which is sponsored by the Bully Busters, is this Friday, March 25th! See the flyer that was sent home last week and also located on the CPA website for more information.
The Academy Board is seeking candidates for two open parent Board positions. The Call for Candidates and Declaration forms are available on the CPA website. The term for these positions will run from July 1, 2016 to June 30, 2018. Declarations are due to the office by Friday, April 8th.
In order to ensure that Summer Bridge Workbooks are here before the end of the school year, we will be placing our order early this year. The deadline to order is March 23, 2016. Please see the flyer and order form on the CPA website for more information.
Our middle school science program is looking for toilet paper and paper towel rolls (with no paper remaining on them) for a project. Please collect these items at home and turn them into the office. Thank you!
As a school, we have logged 7,121 volunteer hours this year. Help us reach our goal of 14,000 volunteer commitment hours by logging your volunteer time. Demonstrating strong parental involvement can help CPA qualify for grants and other funding opportunities, so it's important that every hour is recorded. You can fill out the paper log and return it to the office, or you can record your hours online by sending an email to volunteer@crownpointeacademy.org. Make sure to include your name, your student's name, and the total hours volunteered for the month in the email. Thank you!
All Monday Folder documents can be found on the CPA website,
www.crownpointeacademy.org. This week's documents include:
• Middle School Newsletter 3.21.16
• Green Shirt Day Information
Have a great week!
This email is used for information regarding Crown Pointe Academy only.
Please do not reply to this message as messages will not be answered.
For more information about Crown Pointe, please visit our website at www.crownpointeacademy.org. To contact the school, please call 303.428.1882.