Monday Folder 3.23.15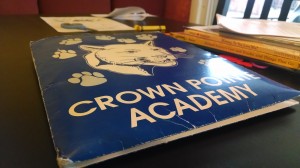 CROWN POINTE ACADEMY
SCHOOL NEWS
Monday, March 23, 2015
Mission Statement:
The mission of Crown Pointe Academy is to promote creativity, curiosity, character and community in a challenging Core Knowledge environment.
PARCC continues through Tuesday, March 24th for student's grades 3-5. Please have your student here on time.  
Picture Reminder
If you would like to order Spring, Continuation or Graduation pictures, please turn in the order form by March 24th @ 9:00AM.  After this date pictures can still be ordered through Van Gogh.  Additional shipping fees will be applied. If you have any questions please call CPA 303-428-1882 or Van Gogh 303-679-9003.
There will be a workshop for anyone interested in running for the Academy Board this Wednesday at 6:00 p.m.  Declarations of Candidacy are due on Friday, April 10th by 3:30 p.m. to the front office.
Report cards will be sent home today.  If your student owes more than $10.00 in fines and/or fees, you will not receive their report card.  Contact Sandi MacGregor at x105 if you have questions.
It's that time of the year to order Summer Bridge Workbooks.  Please turn in the order form along with payment by Friday, April 10th.  See attached flyer for additional information.
CPA'S GOT TALENT
Who's got talent? Your kids! It's that time of year! Get the creative juices flowing and get your child signed up for CPA'S GOT TALENT SHOW. Check out the attached information for contestant information plus dates and times for auditions, dress rehearsals, and the show!
Please remember to update your information!  Have you moved; have a new telephone number or a new job? Please remember to notify the front office so we always have your current information.
Event on the Calendar:
Tuesday, March 24th – Cici's Family Night
Wednesday, March 25th – Academy Board Candidate Workshop from 6-7 p.m.
Friday, March 27th – Green Shirt Day
Enjoy your Spring Break!  See you on Monday, April 6th.
Monday folder flyers for this week are:
Middle School Newsletter 3.23.15
PTA – Information Night Flyer
Green Shirt Day
Summer Bridge Book Flyer
Summer Bridge Book Order Form
CPA Talent Show Information
April Reading Calendar
April Commitment Hours Form
April Menu