Monday Folder 3.7.16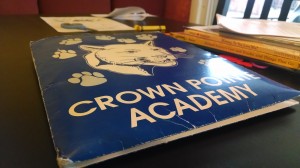 March 7, 2016
Our Mission: The mission of Crown Pointe Academy is to promote creativity, curiosity, character, and community in a challenging Core Knowledge environment.
Thank you to all of the families who stopped by the cafeteria on Friday during dismissal to pick up a volunteer brown bag project!  If you took a project home, please return it to the front office as soon as possible.
Spring Picture Day is Tuesday, March 15, 2016.  This is a non-uniform picture day.  We will be taking spring pictures, kindergarten graduation pictures, and 8th grade continuation pictures.  A proof sheet and order form will be sent home on the same day so you can view your child's picture. If you decide to order pictures, please return the order form with payment enclosed to the school by March 18th. Pictures may also be ordered through Vangoghco.com. Online orders will be mailed directly to your home and additional shipping costs will be added. If you have any questions please call Leslie or Trisha at 303-428-1882.  Thank you!
CPA's Destination Imagination (DI) teams had an amazing weekend at the regional tournament in Aurora.  The Jumping Unicorns and Fluffy Sharks (K, 1st, and 2nd Grades) are in the rising stars, non-competitive division, and they were awesome!  The Adorable Manly Dragicorns (3rd grade) took 2nd place in the Get a Clue Challenge.  The #Dark Inventions team (4th and 5th Grade) took 1st place in the In Plain Sight Challenge.  The Masters of the Blood Arts Team (7th Grade) took first place in the In Plain Sight Challenge, and the Average Joe and the Sarcastic Accountants team (7th Grade) took 1st place in the Pace of Change Challenge.  All four of our competitive teams qualified for the State Tournament on April 9th.  Congratulations to all of the students who participated and good luck at State!
The end of third quarter is this Friday.  Report cards will be sent home on Monday, March 21st.  If you have outstanding fines or fees in the amount of $10.00 or greater, your student's report card will be held.  Please stop by the office to get those fines and fees taken care of as soon as possible. Thank you!
In order to ensure that Summer Bridge Workbooks are here before the end of the school year, we will be placing our order early this year.  The deadline to order is March 23, 2016.  Please see the flyer and order form on the CPA website for more information.
Our middle school science program is looking for toilet paper and paper towel rolls (with no paper remaining on them) for a project.  Please collect these items at home and turn them into the office.  Thank you!
As a school, we have logged 6,706 volunteer hours this year.  Help us reach our goal of 14,000 volunteer commitment hours by logging your volunteer time. Demonstrating strong parental involvement can help CPA qualify for grants and other funding opportunities, so it's important that every hour is recorded.  You can fill out the paper log and return it to the office, or you can record your hours online by sending an email to volunteer@crownpointeacademy.org.  Make sure to include your name, your student's name, and the total hours volunteered for the month in the email.  Thank you!
This week's documents include:
Middle School Newsletter 3.7.16
Summer Bridge Book Order Form
Have a great week!