Monday Folder 4.10.17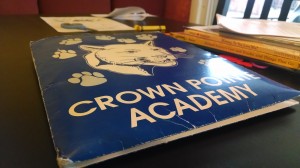 April 10, 2017
Our Mission: The mission of Crown Pointe Academy is to promote creativity, curiosity, character, and community in a challenging Core Knowledge environment.
Save the date!  Our next and final Volunteer Brown Bag Event is Friday, April 21st during dismissal.    We also have our Volunteer Appreciation Breakfast coming up on Wednesday, May 3rd.  Anyone who has recorded volunteer hours for the year will be invited to attend, so get your hours recorded as soon as possible!
As a school, we have recorded 6,777 volunteer hours.  Please remember to record all of your volunteer hours and help us reach our volunteering goal of 14,000 hours for the year.  Demonstrating strong parental involvement can help CPA qualify for grants and other funding opportunities, so it's important that every hour is recorded.  You can fill out the paper log and return it to the office, or you can record your hours online by sending an email to volunteer@crownpointeacademy.org.  Make sure to include your name, your student's name, and the total hours volunteered for the month in the email.  Thank you!
All Monday Folder documents can be found on the CPA website,
This week's documents include:
Middle School Newsletter 4.10.17
Declaration of Candidacy for the Academy Board
RF Newsletter April 2017
The EXPO Learning Lab is looking for parents and community members to share their talents with students.  The EXPO is an all hands on learning environment that CPA launched this year.
If you would like to sponsor the EXPO, check us out online here, or like us on Facebook to receive updates and information about what is happening in the EXPO classes.