Monday Folder 4.11.16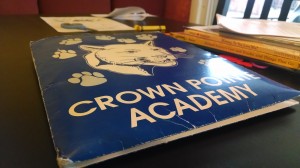 April 11, 2016
Our Mission: The mission of Crown Pointe Academy is to promote creativity,
curiosity, character, and community in a challenging Core Knowledge
environment.
Congratulations to all of our Destination Imagination teams who participated in the State tournament last Saturday.  We had two teams place 5th and one place 6th in the State!  We are proud of all of your hard work and congratulate you on a job well done.
The deadline to order your 2015-2016 CPA Yearbook is fast approaching on April 20th.  To order your copy of the yearbook, visit www.TreeRing.com/validate and enter CPA's passcode: 101392221425678.  The cost of a basic yearbook is $16.50.  Contact Andrea George at andrea.george@crownpointeacademy.org if you have questions.
As a school, we have logged 7,684 volunteer hours this year.  Help us reach our goal of 14,000 volunteer commitment hours by logging your volunteer time. Demonstrating strong parental involvement can help CPA qualify for grants and other funding opportunities, so it's important that every hour is recorded.  You can fill out the paper log and return it to the office, or you can record your hours online by sending an email to volunteer@crownpointeacademy.org.  Make sure to include your name, your student's name, and the total hours volunteered for the month in the email.  Thank you!
This week's documents include:
Middle School Newsletter 4.11.16
Update 4.11.16
NJHS Selection Process Information 2015-2016
MOOYAH-Spanish Trip Fundraising
Have a great week!