Monday Folder 4.13.15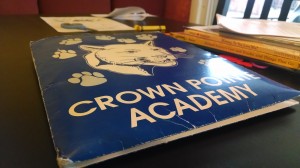 CROWN POINTE ACADEMY
SCHOOL NEWS
Monday, April 13, 2015
 Mission Statement:
The mission of Crown Pointe Academy is to promote creativity, curiosity, character and community in a challenging Core Knowledge environment.
Thank you to everyone who attended our final Volunteer Work Night last Friday, and thank you to all who have supported this volunteer opportunity throughout the school year!  To date, we have logged 9,435 commitment hours.  There's still plenty of time to help us reach our goal of 14,000 hours for the year.  We appreciate your support and dedication!
Attention CPA Parents/Guardians!   The deadline to order yearbooks is TODAY, Monday, April 13th.  If you are interested in purchasing a yearbook, go to www.TreeRing.com/validate and enter our code: 101392221425678.  The cost of each yearbook is $16.50, or you have the option to customize your yearbook for an additional fee.
Parents/Guardians of students in grades 4, 5, 7, and 8: Please be sure to read an important announcement regarding CMAS testing in today's Update.  Your student's attendance this Tuesday, Wednesday, and Thursday, April 14th-16th is very important!  Please schedule any appointments for the afternoons this week.
Middle School Open Gym Night is this Friday, April 17th from 6:00-9:00 p.m.  Join us for a fun night of games, movies, and sports.  Permission slips were sent home today, and they must be turned in by Thursday, April 16th at 4:00.  Late permission slips will not be accepted.  The cost is $3.00 per student and includes dinner, drinks, and dessert.  We hope to see you there!
Our PTA has coordinated with Innisbrook again this year to allow our families to order school supplies and have them delivered to your student's classroom.  Please check out the order form attached and note the ordering window is April 7th-July 3rd.
We are in need of drivers for the 3rd grade field trip on Friday, April 17th to the Gem Museum located at the Colorado School of Mines in Golden.  This will count towards commitment hours.  Please contact Ms. Cowley at christal.cowley@crownpointeacademy.org or Mr. Ruskusky at kevin.ruskusky@crownpointeacademy.org  for more information.    
Event on the Calendar:
Wednesday, April 15th – Meet the Board Candidate Night from 6:00-7:00 p.m.
Friday, April 17th – Middle School Open Gym Night from 6:00-9:00 p.m.
Monday folder flyers for this week are:
Update 4.13.15
Middle School Newsletter 4.13.15
Yearbook Order Information
School Supplies Kit
Meet the Candidate Night Flyer
Kline_Marrs Declaration of Candidacy 2015