Monday Folder 4.20.15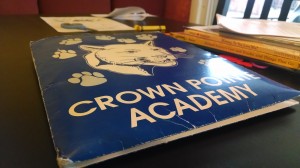 CROWN POINTE ACADEMY
SCHOOL NEWS
Monday, April 20, 2015
 Mission Statement:
The mission of Crown Pointe Academy is to promote creativity, curiosity, character and community in a challenging Core Knowledge environment.
The Spring Choir performance is this evening at 6:00 p.m.  Hope to see you there!
Crown Pointe Academy appreciates our volunteers!  If you have logged volunteer hours this year, save the date!  The Volunteer Appreciation Breakfast is Wednesday, April 29th from 7:30-9:00 a.m. in the CPA cafeteria.  Plan to stay for a while, or just drop in for a few minutes on your way to work.  Formal invitations for the breakfast will be sent home in next week's Monday Folder to families who have logged volunteer hours.
Attention parents with students in grades 3-8!  Are you looking for free tutoring or homework help for your student?  CPA and Missio Dei Fellowship are proud to offer our Homework Help Lab every Wednesday from 3:30-4:30 in the library.  If you're interested in having your student(s) participate, please contact Erin Keyes at ext. 107.  Thank you!
PTA has coordinated with Innisbrook again this year to allow our families to order school supplies and have them delivered to your student's classroom.  Please check out the order form attached and note the ordering window is April 7th-July 3rd.
End of Grading Period is Wednesday, April 22nd.  Progress reports will be sent home Monday, April 27th.  If your student owes more than $10.00 in fines and/or fees, their progress report will be held.  Contact Sandi MacGregor at x105 if you have any questions.
Academy Board election ballots are due Friday, April 24th at 4:00 p.m.

Event on the Calendar:
Monday, April 20th – Spring Choir Concert at 6:00 p.m.
Wednesday, April 22nd – Wellness Committee Meeting at 3:45 p.m.
Thursday, April 23rd – BAAC Meeting at 6:30 p.m.

Monday folder flyers for this week are:
Middle School Newsletter 4.20.15
School Supplies Kit
Kids Bowl Free Summer Bowling Program Flyer