Monday folder 4.24.17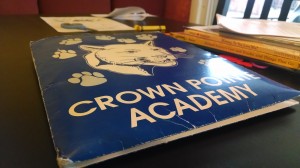 April 24, 2017
Our Mission: The mission of Crown Pointe Academy is to promote creativity, curiosity, character, and community in a challenging Core Knowledge environment.
In preparation for student registration for the 2017-2018 school year, each family will need to have an Infinite Campus Parent Portal username and password.  Most of our families had these created during registration last fall.  If you have forgotten your username and/or password, please email your name and your student's name to records@crownpointeacademy.org, and we will send you your information.  We will begin registration in mid-May, so please retrieve your login information as soon as possible.
Crown Pointe is offering school supply kits again this year through 1st Day School Supply.  The deadline to order your kit for next year is June 15th.  Please see the flyer on the CPA website for more information.
Crown Pointe Academy is participating in the Fire Up Your Feet Activity Challenge to help inspire families, students and staff in creating active lifestyles. Fire Up Your Feet's activity tracking website lets families and staff log their physical activity such as walking, playing, bicycling and more. If our school has the most participants at the end of the Challenge, we can win an award for our school! CPA Wellness will also have prizes for the top participating family, classroom and staff member(s). Participating is easy: register at www.fireupyourfeet.org, and start logging your activity today! Use the paper tracker available on the CPA website if you prefer to track offline! The Challenge is from April 19th to May 12th. All paper trackers should be turned in to the school by May 12. Don't forget to check out the Fire Up Your Feet family friendly activities, healthy lifestyle tips and educational resources. Parents – your students' activity is already being tracked by the school coordinator, but you can get in on the action too! Register and track activity for yourself this week.
As a school, we have recorded 7,187 volunteer hours.  Please remember to record all of your volunteer hours and help us reach our volunteering goal of 14,000 hours for the year.  Demonstrating strong parental involvement can help CPA qualify for grants and other funding opportunities, so it's important that every hour is recorded.  You can fill out the paper log and return it to the office, or you can record your hours online by sending an email to volunteer@crownpointeacademy.org.  Make sure to include your name, your student's name, and the total hours volunteered for the month in the email.  Thank you!
All Monday Folder documents can be found on the CPA website,
This week's documents include:
Middle School Newsletter 4.24.17
1st Day School Supply Kit Flyer
Yearbook Order Information for After the Deadline
Fire Up Your Feet Activity Challenge Form
May Breakfast and Lunch Menu
May Reading Calendar
May Commitment Hours Form
Rev Foods May Newsletter
The EXPO Learning Lab is looking for parents and community members to share their talents with students.  The EXPO is an all hands on learning environment that CPA launched this year.
If you would like to sponsor the EXPO, check us out online here, or like us on Facebook to receive updates and information about what is happening in the EXPO classes.