Monday Folder 4.25.16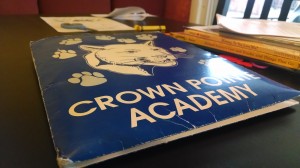 April 25, 2016
Our Mission: The mission of Crown Pointe Academy is to promote creativity, curiosity, character, and community in a challenging Core Knowledge environment.
As a school, we have logged 7,770 volunteer hours this year. Help us reach our goal of 14,000 volunteer commitment hours by logging your volunteer time. Demonstrating strong parental involvement can help CPA qualify for grants and other funding opportunities, so it's important that every hour is recorded. You can fill out the paper log and return it to the office, or you can record your hours online by sending an email to volunteer@crownpointeacademy.org. Make sure to include your name, your student's name, and the total hours volunteered for the month in the email. Thank you!
This week's documents include:
CPA Update 4.25.16
Middle School Newsletter 4.25.16
Commitment Hours- Parent Form
Compliment Cards Sheet
Hyland Hills 2016 Summer Basketball Camp Flyer
Hyland Hills 2016 Track Flyer
Hyland Hills 2016 Youth Football Flyer
May Breakfast and Lunch Menu
May Reading Calendar
PTA Call for Candidates
PTA Information Night
Rev Foods Newsletter May 2016
Staff Appreciation Day Flyer
Have a great week!