Monday Folder 4.27.15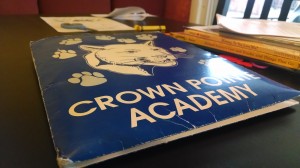 CROWN POINTE ACADEMY
SCHOOL NEWS
Monday, April 27, 2015
 

Mission Statement:
The mission of Crown Pointe Academy is to promote creativity, curiosity, character and community in a challenging Core Knowledge environment.
Invitations for the 2nd Annual Volunteer Appreciation Breakfast were sent home in today's Monday Folders to families who have recorded volunteer hours for the year.  Please join us for breakfast on Wednesday morning starting at 7:30 as a thank you for the commitment and time that so many of you have given to CPA this year.  We hope to see you there!
If you were unable to order your 2014-2015 yearbook, the school did purchase 20 extra yearbooks that will be for sale at the front office on Friday, May 1st starting at 7:30 a.m.  This will be on a first come, first served basis.  You must pre-pay at $16.50 per book.  Limit 2 per family.
If you are unable to purchase a yearbook from the school, it's still not too late! You can still visit www.TreeRing.com/validate and enter our code: 101392221425678.  Your yearbook will be shipped directly to your house (shipping rates apply).  Please note that the date has passed for delivery by the end of the school year for yearbook signing.  You will receive your yearbook in the month of June.  Please contact the office with questions.
Progress reports will be sent home today.  If your student owes more than $10.00 in fines and/or fees, their progress report will be held.  Contact Sandi MacGregor at x105 if you have any questions.
PARCC testing will begin, Monday May 4th and will continue daily through the week for elementary students grades 3-5.  Middle school students will start testing the following Monday, May 11th.  Student attendance during the testing window is critical!  All testing takes place in the mornings prior to lunch, so please plan any appointments for the afternoon.  Contact Mr. Ouweneel, Mrs. Keyes, or your child's teacher if you have any questions.  
Please note that ALL library materials are due by Friday, May 8th.  Please contact Mrs. Strick at x306 with any library questions.     
Skate City Summer Passes are available for purchase!  Each card costs $3, and allows the bearer to skate for just $1 per session ALL SUMMER LONG!  See attached flyer for more information.
Event on the Calendar:
Wednesday, April 29th – Volunteer Appreciation Breakfast from 7:30-9:00 a.m.
Monday folder flyers for this week are:
Update 4.27.15
Middle School Newsletter 4.27.15
Skate City Summer Card Flyer
Announcement of New Academy Board Members
Sports Authority Flyer