Monday Folder 4.4.16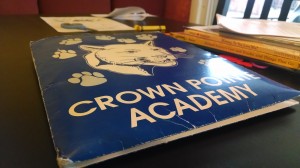 April 4, 2016
Our Mission: The mission of Crown Pointe Academy is to promote creativity, curiosity, character, and community in a challenging Core Knowledge environment.
If you are interested in running for a Board position, your Declaration of Candidacy form is due to the office by 3:30 on Friday, April 8th.  Also, please plan to attend the Board Candidate Workshop this Wednesday, April 6th at 6:00 in the CPA library.  Please contact Cindy McNeal, Board Treasurer, at cindy.mcneal@crownpointeacademy.org if you have any questions.
Our last Volunteer Work Night of the year is this Friday, April 8th from 5:30-8:30 p.m.  Child care, drinks, and light snacks will be provided.  We hope to see you there!
Join us this Thursday, April 7th for the PTA general meeting at 6:15 in the library.  You can count the time in the meeting towards your volunteer hours! We hope to see you there!
Reminder that the after school programs with the City of Westminster start this week!  There is still time to register, and you can pick up a registration form at the front desk.  We'll be taking registration forms through this week for the following classes:
Mondays: T-ball/baseball basics will the Mrs. Holmes (grades K-3), Running Club with Mrs. Worley (grades 5-8), and French Club with Mrs. Roe (grades 3-8)
Wednesdays: Kids in the Kitchen with Rev Foods (grades 3-5), Science Club with Mrs. Roe (grades K-8)
Thursdays: Digital Photography with Ms. Glass (grades 6-8), American Sign Language with Mrs. K (grades K-5), Swimming with Mrs. MacGregor (grades K-4).
As a school, we have logged 7,384 volunteer hours this year.  Help us reach our goal of 14,000 volunteer commitment hours by logging your volunteer time. Demonstrating strong parental involvement can help CPA qualify for grants and other funding opportunities, so it's important that every hour is recorded.  You can fill out the paper log and return it to the office, or you can record your hours online by sending an email to volunteer@crownpointeacademy.org.  Make sure to include your name, your student's name, and the total hours volunteered for the month in the email.  Thank you!
This week's documents include:
Middle School Newsletter 4.4.16
April Breakfast and Lunch Menus
April Reading Calendar
April Commitment Hours Form
April  Rev Foods Newsletter
Have a great week!