Monday Folder 4.6.15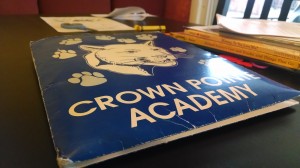 CROWN POINTE ACADEMY
SCHOOL NEWS
Monday, April 6, 2015
Mission Statement:
The mission of Crown Pointe Academy is to promote creativity, curiosity, character and community in a challenging Core Knowledge environment.
Welcome Back from Spring Break!
This is the last week to order Summer Bridge Workbooks.  Order form along with payment must be received by Friday, April 10th. 
Academy Board Candidate Declaration deadline is Friday, April 10th by 3:30 p.m. to the front office.
Please join us for our last Volunteer Work Night of the year this Friday, April 10th from 5:30-8:30 p.m.  We would love to have your help to complete classroom projects!  Child care, drinks, and light snacks will be provided.  
As a school, we have logged 8,722 hours for the year.  There are still many opportunities to help us reach our goal of 14,000 hours for the year.  Attend this week's PTA or Academy Board meetings, chaperone on a class field trip or help with classroom events, or help with end of year activities.  The possibilities are endless!  We appreciate your dedication and support.
MARK YOUR CALENDAR
Middle School Open Gym Night on Friday, April 17th from 6-9 p.m.  The cost per student is $3.00.  Permission slip will be sent home next week in Monday folders.
Celebrate National History Day in Colorado Saturday May 2, 2015 10-4pm.  Teacher Open House @ the new Westminster History Center (72nd & Lowell Blvd).  Families and Staff also invited!    History activities to explore for all ages!  For more information: 303-428-3993 or visit http://www.westminstercohistory.com.

Event on the Calendar:
Wednesday, April 8th – Academy Board Meeting @ 7:00 p.m.
Thursday, April 9th – PTA Meeting and Parent Information Night at 6:00 p.m.
Friday, April 10th – Academy Board Candidate Declaration Deadline
Friday, April 10th – Volunteer Work Night from 5:30-8:30 p.m.

Monday folder flyers for this week are:

Middle School Newsletter 4.6.15
Volunteer Work Night flyer
PTA – Information Night Flyer
Summer Bridge Book Order Form
Rev Foods – New Meals in April
Rev Foods Newsletter April 2015
National History Day in Colorado Flyer